DJ Rukiz - Blends For Dummies Part 2
Submitted by mfizzel on Tue, 06/20/2006 - 5:31pm.
Blends | DJ Rukiz | Mixtape Torrents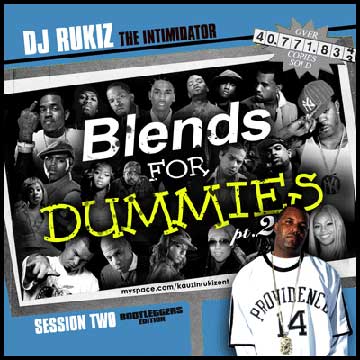 DJ Rukiz lends his expertise to the blends game as he shows other
DJs and blends fans alike how he dooz what he duz. This mixtape is
packed with hip-hop and R&B blends from Kanye West, Beyonce &
Slim Thug, Busta Rhymes, Ne-yYo, 50 Cent, Big Boi, Jamie Foxx &
Ludacris, Paul Wall, Christina Milian & Young Jeezy, Pharrell, Jay-Z.

1 - Bootlegger Intro
2 - Juicy Intro Mix (2pac Rukmix)
3 - So Sick - Ne-Yo (Wu-Tang Rukmix)
4 - Get Low - Lloyd Banks (Busta Rhymes Rukmix)
5 - Touch It - Busta Rhymes (Candy Rukmix)
6 - Say I - Christina Milian, Young Jeezy (My Style Rukmix)
7 - Planet Rock Rukmix
8 - Since U Been Gone -Kelly Clarkson (Dancehall Rukmix)
9 - Touch The Sky - Kanye West (2-beat Rukmix)
10 - Check On It - Beyonce, Slim Thug (Biggie Rukmix)
11 - Go Crazy – Young Jeezy, Jay-Z (Ryder Rukmix)
12 - Still On It - Ashanti, Paul Wall, Method Man (All Night Rukmix)
13 - Ski Mask Way - 50 Cent (Still On It Rukmix)
14 - Sit Back Relax - Jim Jones, Fab, Jay-Z (Rukmix)
15 - Yo - Chris Brown (702 Rukmix)
16 - Body Rock - Purple Ribbon All-Stars (Get Money Rukmix)
17 - Love - Keisha Cole (2006 Rukmix)
18 - Unpredictable - Jamie Foxx, Ludacris (Get Crunk Rukmix)
19 - I Wanna Love You - Jay-Z, Pharell (exclusive Rukmix)
20 - Rakata -Wisin y Yandel (Booty Rukmix)
21 - Ms. New Booty - Bubba Sparks (Touch Rukmix)
22 - Wind – Wisin y Yandel (Lose Control Rukmix)
23 - Conceited - Remy Ma (Me & U Rukmix)
24 - Stay With Me – Ne-Yo, Peedi Crakk (Cutie Pie Rukmix)
25 - Best Friend - Olivia , 50 Cent (Some Niggas Rukmix)
26 - Gotta Go - Trey Songz (I Need Love Rukmix)
27 - Lean Wit It – Dem Franchize Boyz (Some Head Rukmix)
28 - I'm In Luv With A Stripper –T-Pain (3-beat Rukmix)
How To DOWNLOAD