DJ Rukiz - Blends For Dummies Vol. 3
Submitted by mfizzel on Fri, 08/11/2006 - 5:58am.
Blends | DJ Rukiz | Mixtape Torrents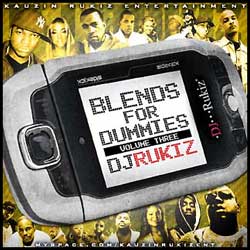 The Kauzin' Rukiz mixtape ringleader DJ Rukiz
drops this mixtape on a sad note: Rukiz' mom
passed away recently, and this mixtape is
dedicated in memory of Maria Costa.
With the remixes that would make any mother
proud, Rukiz brings the blends creativity up a
notch for this special mixtape.
Featuring more than 30 hip-hop/R&B/Southern
blends, this mixtape is the 3rd chapter in the
Blends For Dummies instruction series.
Featuring blends with 2pac, Rihanna, Shakira &
Wyclef, T.I., Beyonce & Jay-Z, Three-6, Rick
Ross, Yung Joc and more.

1 - Dedication To Maria Costa (R.I.P)
2 - Dear Mama - 2pac (Gimme That Rukmix)
3 - What I Need - Ray J (Blows My Mind Rukmix)
4 - When Your Mad - Neyo (Bring It Back Rukmix)
5 - Angel In Disguise - Monica (Hustlin Rukmix)
6 - Torn - Toya (Bag Lady Rukmix)
7 - Unfaithful - Rihanna (Knuck If You Buck Rukmix)
8 - Jigga vs. Beenie (So Sexy Rukmix)
9 - Hips Don't Lie - Shakira feat. Wyclef (Holla At Me Rukmix)
10 - Bad Girl - Black Buddafly (Whisper Rukmix)
11 - Tell Em What They Wanna Hear - Rashad (3-beat Rukmix)
12 - Why You Wanna - T.I. (3-beat Rukmix)
13 - Juicy - Biggie (Where You At Rukmix)
14 - Sexy Love - Neyo (How We Do Rukmix)
15 - Where You At - Joe (2-beat Rukmix)
16 - Back Like That - Ghostface feat. Neyo Kanye West (Bad Girl Rukmix)
17 - Number 1 - Pharell feat. Kanye West (Love Come Down Rukmix)
18 - Deja - Vu - Beyonce & Jay-Z (Holla Rukmix)
19 - Snap Yo Fingaz - Lil Jon (Clockwork Rukmix)
20 - Stunnas - Jagged Edge (Clockwork Rukmix)
21 - Feel So Good - Neyo feat. Remy Ma (Why Rukmix)
22 - Poppin My Colla - Three-6-Mafia (Bet You Can't Rukmix)
23 - Do It - Cherish (Bet You Can't Rukmix)
24 - Suck It Or Not - Cam'Ron feat. Lil Wayne (Please Rukmix)
25 - Goin Down - Young Joc (Wasn't All Good Rukmix)
26 - Hustlin - Jay-Z, Rick Ross (One In A Million Rukmix)
27 - Ghetto Story - Baby Cham (Snap Ya Fingaz Rukmix)
28 - I Love My Bitch - Busta Rhymes (Candy Girl Rukmix)
29 - The One - Megan Rochelle (You're A Customer Rukmix)
30 - Favorite One - Styles P (3-beat Rukmix)
31 - Be Good To Me/Badmaan Forward - Ding Don/S.O.S Band (Tell Them When To Go Rukmix)
32 - Enough Cryin - Mary J Blige (Let's Get High Rukmix)
33 - I Love You - Cheri Denis (Baknefx Rukmix)
How To DOWNLOAD