DJ Rukiz - T.I. & Jay-Z: Crack Muzik 2
Submitted by mfizzel on Wed, 09/20/2006 - 11:01am.
Blends | DJ Rukiz | Mixtape Torrents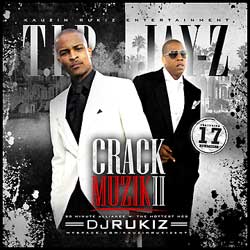 The often-hyped "Jay-Z of the South" T.I. meets his maker on this Crack-tastik
mixtape from DJ Rukiz, as Smashsquad's finest matches The King up with The Dynasty's
emperor Jay-Z for this mixtape full of remixes and blends.
With more than 15 remixes + blends total, including 13 Rukmixes featuring the
both of them. Back with the 2nd edition of Crack Muzik, Rukiz brings you two of
rap's baddest spitters and biggest attractions once again.
With Jay-Z out of retirement and T.I.P. at his boiling point, this dose of Crack
Muzik hits harder than the first (and then some). Featuring more than 30 total
blends, tracks, freestyles and unreleased joints.

1 - Intro
2 - Mr. Me Too - T.I., Jay-Z (Rukmix)
3 - Why U Wanna- T.I., Jay-Z (Rukmix)
4 - You Only A Customer - Jay-Z
5 - Whatz Yo Name - T.I.
6 - 44 Four's - Jay-Z
7 - The Kingz - T.I., Jay-Z (Rukmix)
8 - Fresh - T.I.
9 - All I Need Is A Hustle-Jay-Z (Rukmix)
10 - Cake Mix -Jay-Z, T.I. (Rukmix)
11 - Live In The Sky- T.I. [unreleased version]
12 - Mama Loves Me - Jay-Z (Rukmix)
13 - What You Know Bout Livin - T.I. (Rukmix)
14 - Back Then Freestyle - Jay-Z, T.I.
15 - Get High Freestyle - Jay-Z, T.I
16 - Stand Up -Jay-Z, T.I. (Rukmix)
17 - Handz Up -Jay-Z, T.I. (Rukmix)
18 - When The Smoke Clears - Jay-Z, T.I. (Rukmix)
19 - My Sexiest Love - Jay-Z, T.I. (Rukmix)
20 - 9/11 Freestyle - Jay-Z
21 - U Don't Know - T.I. , Jay-Z (Rukmix)
22 - Can'T Help It - T.I. [not on album]
23 - Turn Off The Lights- Jay-Z, Mary J Blige, T.I
24 - Deja Vu - Jay-Z [verse]
25 - My Love - T.I. [verse]
26 - Where You @ - Jay-Z, T.I. (Rukmix)
27 - Aint No Niggas - Jay-Z , T.I. (Rukmix)
28 - Survivors - T.I., Jay-Z (Rukmix)
29 - Changing - Jay-Z , T.I. (Rukmix)
30 - Dip, Slide, Ride - T.I. [not on album]
31 - Ignorant Shit-Jay-Z [unreleased]
How To DOWNLOAD