Jay-Z & MIDIMarc - American Beatmaker

Submitted by TripBFB on Thu, 12/13/2007 - 8:44am.
Remixes | MIDIMarc | Mixtape Torrents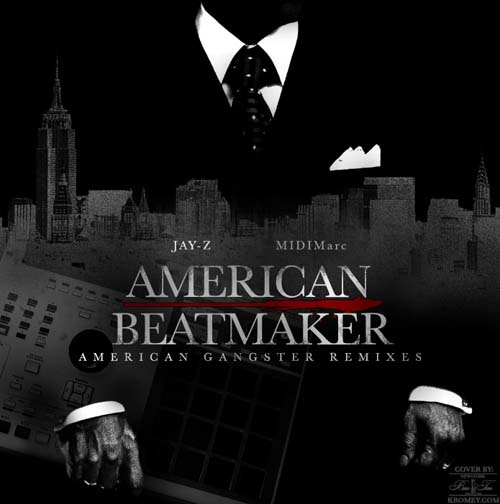 Pretty good remix of American Gangster..
More form MIDIMarc coming soon...
*NOTE*
You will notice, "I Know" is missing.
It's come to my attention that MIDIMarc wasn't comfortable
with the remix he did, so he left it off out of respect for
the Neptunes. That's what I heard, but, I believe it was
because it didn't sample.
If I'm not mistaken, all the tracks sampled something, if
not the same songs...the best American Gangster remix out
though.

01Jay-Z and MIDIMarc- Intro.mp3 2.36 MB
02Jay-Z and MIDIMarc- Pray.mp3 3.65 MB
03Jay-Z and MIDIMarc- American Dreamin.mp3 3.76 MB
04Jay-Z and MIDIMarc-Hello Brooklyn.mp3 3.89 MB
05Jay-Z and MIDIMarc- No Hook.mp3 3.40 MB
06Jay-Z and MIDIMarc- Roc Boys.mp3 4.80 MB
07Jay-Z and MIDIMarc-Sweet.mp3 2.98 MB
09Jay-Z and MIDIMarc- Party Life.mp3 4.26 MB
10Jay-Z and MIDIMarc- Ignorant Shit.mp3 4.04 MB
11Jay-Z and MIDIMarc- Say Hello.mp3 5.62 MB
12Jay-Z and MIDIMarc- Success feat Nas.mp3 2.99 MB
13Jay-Z and MIDIMarc- Fallin.mp3 3.29 MB
14 Jay-Z and MIDIMarc-Blue Magic.mp3 3.97 MB
15Jay-Z and MIDIMarc- American Gangster.mp3 2.86 MB
16Jay - Z feat Biggie and Faith - All A Dream Bounus Track.mp3 3.33 MB
How To DOWNLOAD