Best Of The West Vol. 5

Submitted by HurricaneBWS on Fri, 06/15/2007 - 12:39pm.
West Coast | Mixtape Torrents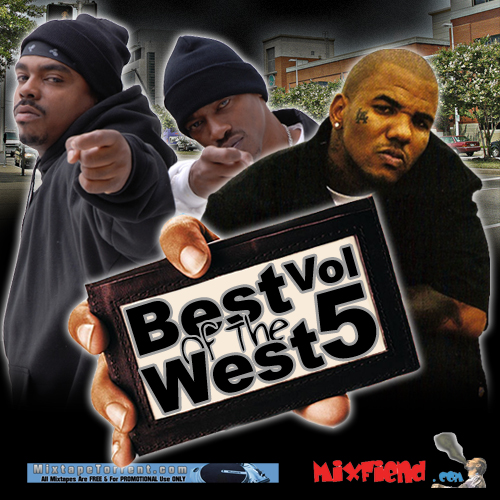 I mixed this version a different way so tell me how you like it...I think its
better. I think I outdid myself again, I have a better tracklist this time.
REAL Hip-Hop shit on this tape...check out the Sick Jacken & DJ Muggs Interlude
& make sure to pay attention to the Techniec track "Turn Off The Radio '07" -
he spits the truth. My favorite track on this tape has got to be Stacee Adamz
- Cold World, just a heads up. Enjoy & send me PMs with suggestions for future
tapes or get at me to do a drop.
01 - The Game - Murda
02 - Juice - I Got You
03 - G. Malone - Malone
04 - Mitchy Slick - I Know
05 - The Lady Of Rage - Afro Puffs
06 - Soopafly - Tha Turnaround (Ft. B-Real)
07 - DJ Muggs & Sick Jacken - The Legend Of The Mask & The Assassin (Interlude)
08 - DPG - I'll Bury Ya
09 - The Game - Still Me (Feels Good)
10 - Strong Arm Steady - One Step (Ft. Talib Kweli)
11 - Too Short - Freaky Tale
12 - Dr. Dre - Natural Born Killers (Ft. Ice Cube)
13 - Crooked I - Deep Cover Freestyle
14 - Problem - Listen (Ft. Terrace Martin)
15 - Stacee Adamz - Cold World
16 - XL Middleton - Major (Ft. Black & Crooked I)
17 - Brotha Lynch Hung - The Valley Iz Active (Ft. Tallcann G, COS & Devious)
18 - The Game - My Bitch
19 - Ya Boy - I'm Takin' Over
20 - Techniec - Turn Off The Radio '07
How To DOWNLOAD