Cutmaster C - The Hood News (The Go To Man)
Submitted by mfizzel on Sat, 08/19/2006 - 4:33pm.
General | Cutmaster C | Mixtape Torrents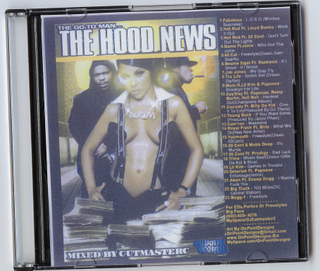 Extra! Extra! Cutmaster C is back with the newest copy in The Hood News series!
With yet another bangin' hip-hop mixtape packed with the latest tracks, freestyles, and disses
from your favorite artists, Cut's bringing you up to date on what's good in the hood and in the
hip-hop world.
Bringing you all the latest tracks from New York and nationwide, this mixtape features new cuts
from 50 Cent, Fabolous, The Game, 40 Cal, Jim Jones, Young Buck, Cassidy, Lil' Kim, Omarion &
Papoose, Akon & Snoop Dogg, and more.
1. Fabolous - L.o.s.o. (Monkey Business)
2. Hot Rod Ft. Lloyd Banks - Work It Out
3. Hot Rod Ft. 50 Cent - Dont Turn Out The Lights
4. Game Ft. Juice - Who Got Tha Juice
5. 40 Cal - Freestyle (Dissin Sam Scarfo)
6. Beanie Sigel Ft. Raekwon - If I Shoot
7. Tru Life - Snitch Set (Dissin Dipset)
8. Jim Jones - We Stay Fly
9. Main O Ft. Lil Kim And Papoose - Brooklyn For Life
10. Kayslay Ft. Papoose Remy Martin And Hell Rell - Hardest Out (Champions Album)
11. Cassidy Ft. Billy Da Kid - Give It To Em (Produced By Dj Thoro)
12. Young Buck - If You Want Some (Produced By Jazze Phae)
13. Camron - Weekend
14. Royal Flush Ft. Blitz - What We Do (Nas New Artist)
15. Yukmouth - Freestyle (Dissin 50 Cent)
16. 50 Cent And Mobb Deep - Its Murda
17. 50 Cend Ft. Prodigy - Bad Luck
18. Trina - Whats Beef (Dissin Gillie Da Kid And Khia)
19. Lil Kim - Games In Trouble
20. Akon Ft. Eminem - Bonus Track
21. Akon Ft. Snoop Dogg - I Wanna Fuck You
How To DOWNLOAD