Cutmaster C - You Got Punked! Vol. 1
Submitted by mfizzel on Tue, 08/08/2006 - 11:05am.
East Coast | Cutmaster C | Mixtape Torrents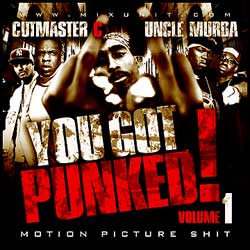 Re-Download if you downloladed before 9:40AM CST 8-9-06

Back with his boy Uncle Murda (cop that
Green Lantern mixtape TODAY!), ya man
Cutmaster C hits you with a new mixtape for
all the fans of rap beefs and diss records.
Bringing you new and classic rap battles and
beefs from the past and present, this mixtape
captures some of rap's more memorable feuds.
Uncle Murda adds a track to let you know he
ain't playin' either.
The mixtape features diss records from Gillie Da
Kid (vs. Lil' Wayne), Cam'ron (vs. Jay-Z), Luda
(vs. Jeezy & T.I.) and rap beefs between
Tupac & Mobb Deep, G-Unit & D-Block and
Mase & Dipset.

1 - Tupac - When We Ride On Our Enemies (Dissin' Mobb Deep)
2 - Mobb Deep - Drop A Gem On Em (Dissin' Tupac)
3 - Uncle Murda - Who Shot Gravy? (Dissin' Gravy)
4 - 50 Cent feat. Tony Yayo - 5 Heartbeats (Dissin' Jadakiss)
5 - Jadakiss - Sorry Miss Jackson (Dissin' 50 Cent)
6 - Gillie Da Kidd - Freestyle (Dissin' Baby & Lil Wayne)
7 - Ludacris - War With God (Dissin' T.I.)
8 - T.I. - 99 Problems (Dissin' Lil Flip)
9 - Cam'ron, Yung Joc - It'S Goin Down (Dissin' Jay- Z)
10 - Jay- Z, Rick Ross, Young Jeezy - Hustlin (remix) (Dissin' Camron)
11 - Camron, Un Kasa, Dipset - Take Em To Church (Dissin' Mase)
12 - Mase Freestyle (Dissin' Dipset)
13 - Uncle Murda Freestyle (Dissin' Nas, Mobb Deep, Mase)
14 - Game - 120 Bars (Dissin' G- Unit)
15 - 50 Cent - Not Rich, Still Lyin (Dissin' Game)
16 - Nas - Don't Body Yaself
17 - 50 Cent feat. Tony Yayo - I Run N.Y. (Dissin' Jadakiss)
18 - Sheek - Clickety Clank (Dissin' 50 Cent)
19 - Lloyd Banks - Freestyle (Dissin' Game)
20 - Outro
How To DOWNLOAD