Cutmaster C - The Hood News Page 3: Jay-Z Boycotts Cristal
Submitted by mfizzel on Sun, 07/02/2006 - 5:30pm.
East Coast | Cutmaster C | Mixtape Torrents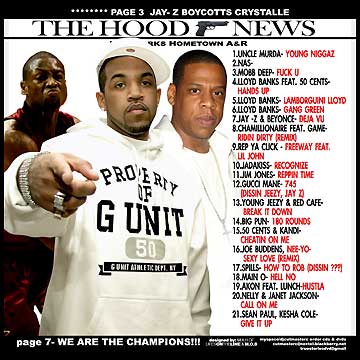 Cutmaster C brings you the latest edition of The Hood News with juicy
hip-hop gossip and news from the corner. Bringing you a mix of major
hip-hop mixtape to chronicle the week in events, this edition features a
gang of new tracks, freestyles & exclusives from 50 Cent, unreleased
Big Pun + cuts from Jadakiss, Freeway, Nas, Lloyd Banks, Mobb Deep,
Uncle Murder. Also featuring DISS TRACKS from Gucci Mane & Jeezy!

1 - Uncle Murda - Intro
2 - Uncle Murda - Young Niggas
3 - Nas - Where Y'all At?
4 - Mobb Deep - Fuck U
5 - Lloyd Banks feat. 50 Cent - Hands Up
6 - Lloyd Banks - Lamborguni Lloyd
7 - Lloyd Banks - Gang Green
8 - Jay-Z & Beyonce - Deja Vu
9 - Chamillionaire feat. DJ Quik, Game - Ridin' Dirty (West Coast mix)
10 - Freeway feat. Lil' Jon - Rep Ya Click
11 - Jadakiss Freestyle
12 - Jim Jones - Reppin Time
13 - Gucci Mane - 745 (Dissin' Jay-Z, Jeezy, Beyonce)
14 - Young Jeezy, Red Cafe - Break It Down (Dissin' Gucci Mane)
15 - Uncle Murder - Gettin High
16 - Big Pun - 180 Rounds
17 - 50 Cent & Kandi - Cheatin
18 - Joe Budden & Ne Yo - Sexy Love (remix)
19 - Spills - How To Rob (Dissin' DMX, Gravy, Remy Martin)
20 - Maino - Hell No (produced by Scott Storch)
21 - Akon - I'ma Hustla
22 - Busta Rhymes feat. Stevie Wonder - Been Through The Storm
23 - Nelly & Janet Jackson
How To DOWNLOAD