DJ Vlad "The Butcher" - Beef III Mixtape Part 1
Submitted by mfizzel on Wed, 03/01/2006 - 1:48pm.
Mixtape Directory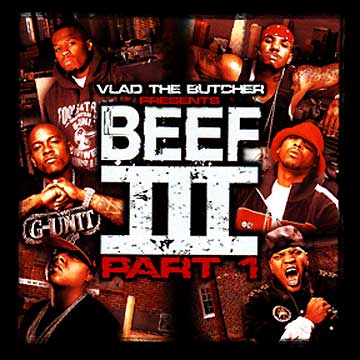 DJ Vlad "The Butcher" launches the Beef III official mixtape series on
behalf of QD3. Following up the hugely successful hip-hop beef DVD
series, this mixtape gives you all the latest beef & drama in hip-hop,
with most of these diss tracks coming from mixtapes. This CD reads
like an anti-G-Unit mixtape, with disses from Game, AZ and D-Block.

1 - Beef III Intro
2 - Beef III Interlude: 50 Cent vs. Game
3 - Game - 360 (Ending 50 Cent Beef, Dissin' Spider Loc)
4 - 50 Cent - Not Rich, Still Lyin (Dissin' Game)
5 - Jadakiss, Styles P - I'm Sorry Mrs. Jackson (Dissin' 50 Cent)
6 - Beef III Interlude: Game's Crew Member Gets Shot
7 - Young Buck, Spider Loc - Where I'm From (Dissin' Game)
8 - Game - 240 Bars (Dissin' Spider Loc)
9 - Spider Loc - Bang Bang (Dissin' Game)
10 - Beef III Interlude: Bang Em Smurf & Domination vs. 50 Cent
11 - Spider Loc - G-Unot Killer (Dissin' Game, Eastwood)
12 - Eastwood - Whoever The Shoe Fits (Dissin' Spider Loc)
13 - Spider Loc - Bitch Boy (Dissin' Game)
14 - Yukmouth - Playa Hata (Dissin' Spider Loc)
15 - Joe Budden (Dissin' Whoo Kid, Game)
16 - AZ - Royal Salute (Dissin' 50 Cent)
UNSIGNED HEAT
17 - Frontlinerz - Beef
18 - German Luger - Bad Decisions (Dissin' Aztec)
19 - Remo The Rapstar - Snitch
20 - Roam Daddy - Lean
21 - Paleface - Sav Up
How To DOWNLOAD