Big Mike - This Is Why I'm Hot Pt. 2: The Labor Day Massacre
Submitted by mfizzel on Wed, 09/06/2006 - 2:57am.
General | Big Mike | Mixtape Torrents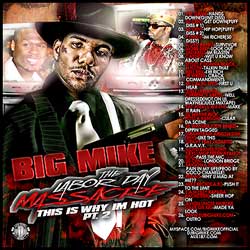 And you thought everybody took Monday off! Hip-Hop never sleeps because Nas said it was
the cousin of death, so Big Mike spent his Labor Day putting together this crazy mixtape
just for you.
While you were throwing back Coronas and scarfing down Oscar Meyers, Diddy woke up 50
Cent, The Game broke his promise to leave G-Unit alone, and Diddy may have responded
to 50.
Find out what's got 50 so heated at the original Bad Boy and check in on the latest
in the Game/G-Unit saga, PLUS new tracks from Jadakiss, Cassidy, Mobb Deep, Gravy,
Dipset, Rick Ross, Lil' Wayne + Juelz Santana, Ransom, Saigon, Lloyd Banks and more.

1 - The Game - Hands Down (Dissin' G-Unit)
2 - 50 Cent - Get Down (Dissin' Diddy)
3 - 50 Cent - Hip-Hop (Dissin' Diddy)
4 - P Diddy - I'm Richer (Dissin' 50 Cent?)
5 - Lloyd Banks - Survivor
6 - Mobb Deep - Look Out
7 - Jadakiss - I'm Blastin
8 - Cassidy - Wut U Know About Cass
9 - Styles P, Donna Black, H Flow - Talkin' That
10 - Hell Rell, J.R. Writer, 40 Cal & RU Spits - First U Hear
11 - Juelz, Lil' Wayne, Currency & Bezel - Well Dressed (not on Wayne & Juelz mixtape)
12 - Fat Joe & Lil' Wayne - Make It Rain
13 - Lil' Wayne, Rick Ross & Ransom - Clear Da Scene
14 - Lil' Wayne & Jody Breeze - Dippin Tagged
15 - Straw (Team Arliss) & Slim Thug Freestyle
16 - Gravy Feat Jadakiss - G.R.A.V.Y.
17 - Lloyd Banks, Tony Yayo, Mop, Freeway & Hot Rod - Pass The Mic
18 - 50 Cent - London Bridge
19 - Saigon & Trey Songz - Pain In My Life (produced by Coco Chanelle)
20 - Reemo - Why U Mad At Me?
21 - Mike Beck (K.A.R.) - Push It To The Limit
22 - F.A.M. (Illy Rap & Da Racketeer) - Sheer Hop On
23 - Avion, Uncle Murder, Gillie Da Kid - Made Ya Look
24 - BigMike.com Outro
How To DOWNLOAD