DJ L - Who Want A Problem Pt. 1
Submitted by mfizzel on Thu, 09/14/2006 - 7:50am.
General | DJ L | Mixtape Torrents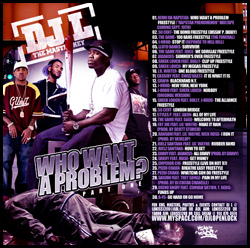 The Master Key DJ L is looking for trouble on
this latest hip-hop mixtape featuring new &
exclusive music from the wide world of hip-hop.
Nobody wants to mess with L as he rolls
through with a new round of joints from NYC's
hardest representers from each borough.
This mixtape features new music from 50 Cent,
The Game, Lloyd Banks, Cassidy, D-Block,
Jadakiss & Gravy, Peedi Crakk, Fat Joe,
Ransom, Grafh, Saigon and more.

1 - Remo Da Rapstar- Who Want A Problem Freestyle
2 - 50 Cent - The Bomb Freestyle (Dissin' P. Diddy)
3 - The Game - 100 Bars Freestyle (Dissin' G-Unit)
4 - J-Hood - Stop It (Reponse To Hell Rell)
5 - Lloyd Banks - Survivor
6 - The Game feat. Juice - We Gorillaz Freestyle
7 - Jadakiss - Summer's Over Freestyle
8 - Sheek Louch feat. Bully - Clip Up Freestyle
9 - Sheek Louch - My Niggas Freestyle
10 - J.R. Writer - One Blood Freestyle
11 - Cassidy feat. Swizz Beatz - It Is What It Is
12 - Grafh - Blackhand N.Y.
13 - J-Hood - New York, New York
14 - J-Hood feat. Sheek Louch - Nobody
15 - Sheek Louch feat. Bully, J-Hood - The Alliance Freestyle
16 - 50 Cent - London Bridge
17 - Styles P. feat. Akon - All Of My Life
18 - The Game feat. Gage - Welcome To Aftermath
19 - Fat Joe feat. Lil' Wayne - Make It Rain (produced by Scott Storch)
20 - Ransom feat. Lil' Wayne, Rick Ross - I Run It (produced by Develop)
21 - Juelz Santana feat. Lil' Wayne - Rubber Band
22 - Juelz Santana - How To Get
23 - Gravy feat. Jadakiss - All Gravy (produced by Ron Browz)
24 - Gravy feat. Mase - Get Money
25 - Emperor Chi - Freestyle (Live On Hot 97)
26 - Peedi Crakk - Breathe Easy Freestyle
27 - Peedi Crakk - Whatcha Gon Do Freestyle
28 - Saigon feat. Trey Songz - Pain In My Life (produced by DJ Cocoa Chanelle)
29 - Deeno Snuff feat. Convah Sation, T. Rebel - Funds Up=
30 - A-Fs - Go Hard Or Go Home
How To DOWNLOAD