Dirty Harry - Hang 'Em High (2CD - Remastered Classic)
Submitted by mfizzel on Mon, 06/19/2006 - 6:00pm.
Classic / Old | Dirty Harry | Mixtape Torrents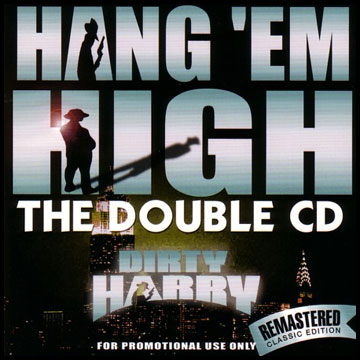 This late-90s release is another re-mastered mixtape for your Dirty Harry
Collection, with the crazy creativity & turntable skillz that defines a Harry mix.
This joint has DH exclusives and blends feat. Fugeese, Nas, Biggie & 2pac, Wu-Tang,
Snoop Dogg w/ K-Ci & JoJo, Mario Winans, Rakim, Busta Rhymes, KRS-One,
Capone-N-Noreaga, LL Cool J, Mase & P. Diddy, EPMD and many more.

DISC ONE
1 - Fugees - Hang 'Em High ( & Wyclef)
2 - feat. John Forte - Refugee b/w "Sweetest Thing" (DH remix)
3 - LL Cool J - Jinglin' Baby b/w Mario Winans' "Don't Know" (DH blend)
4 - Wu-Tang Clan - Reunited b/w Stephanie Mills' "The Way You Make Me Feel" (DH blend)
5 - Dirty Harry Interlude
6 - Notorious B.I.G. - Benjamins b/w Mary J. Blige's "I Can Love" (DH blend)
7 - Nas Escobar '97 mix (DH remix)
8 - After 7 - Can't Stop b/w Jay-Z's "Who You Wit" (DH remix)
9 - Royal Flush feat. Lost Boyz - Everyday mix (DH remix)
10 - "Deep Cover" mix - K-Ci & JoJo feat. Snoop Dogg - You Bring Me Up (DH remix)
11 - Dirty Harry Interlude
12 - Rakim - "Mo Rhythm Mo Money" mix (DH remix)
13 - Busta Rhymes - Put Yo Hands Where My Eyes Could See
14 - Alexander O'Neil - Never Knew Love Like This (remix)
15 - Royal Flush - Shine (DH remix)
16 - "Rap Figures" I
17 - Lost Boyz - Rock The Box mix (DH remix)
18 - Notorious B.I.G. - Long Kiss Goodnight (DH remix)
19 - Sweetheart - Hypnotized (DH remix)
20 - Capone-N-Noreaga - Parole Violators b/w "Makin' Moves" (DH remix)
21 - Tony Thompson - Love You Like That b/w Notorious B.I.G.'s "Sky's The Limit" (DH blend)
22 - On The Real b/w "On & On" (DH blend)
23 - Notorious B.I.G. - Dangerous MC's mix (DH remix)
24 - Wu-Tang Clan - Tearz b/w En Vogue's "Whatever" (DH blend)
25 - EPMD - Never Seen Before & 702's "No Doubt" mix (DH remix)
26 - Major Stress - 1,2 Trees
27 - Wyclef - Apocalypse
28 - KRS One - '97 Commentary
29 - P. Diddy feat. Mase - Been Around The World
30 - Bone Thugs & Harmony - Thug Luv
31 - Young G's - P. Diddy feat. Notorious B.I.G. & Jay-Z
DISC TWO
1 - Hang 'Em High
2 - "Rap Figures" II - Young, Gifted & Black
3 - Dirty Harry Interlude
4 - Tupac - The Notorious Mix (DH remix)
5 - Wyclef Jean - Year of the Dragon
6 - Mary J. Blige - Everything (DH blend)
7 - SWV - Someone (DH blend)
8 - B One - Verbal Affairs mix (DH remix)
9 - Tupac - Smile (DH verse remix)
10 - Teena Marie - Oh La La La b/w "Keep Your Hands High" (DH blend)
11 - Mobb Deep feat. Rakim - Hoodlum mix (DH remix)
12 - Legal Money Acapellas
13 - Capone-N-Noreaga - Bloody Money mix (DH remix)
14 - Tom's Diner - Susan Vega b/w "Older Gods" (DH remix)
15 - Wu-Tang Clan - It's Yourz (DH remix)
16 - Zhane Crush blend (DH blend)
17 - Dead Prez - These Are The Times
18 - P. Diddy feat. Notorious B.I.G. & Busta Rhymes - Victory
19 - Royal Flush - Iced Down Medallions (DH remix)
20 - Dirty Harry Interlude
21 - P. Diddy & Foxy Brown - Friend
22 - Mary J. Blige feat. Lox - Can't Get You Off My Mind (DH blend)
23 - Blackstreet - Fix b/w Steady B's "Use Me" (DH blend)
24 - O.C. feat. Big L - Dangerous
25 - Diana Ross - Telephone Top Billin' blend (DH blend)
26 - Snoop Dogg - Something Funky (DH SWV blend)
27 - Hey AZ Show Mix
28 - Notorious B.I.G. - G'z Up, Hoez Down mix (DH remix)
29 - Missy feat. Lil' Kim - Hit 'Em With Da Hee blend (DH blend)
30 - Wu-Tang - Visionz mix (DH remix)
31 - SWV feat. Lil' Cease - Love Like This (DH blend)
32 - Lox feat. P. Diddy - I Got The Power
How To DOWNLOAD