Dirty Harry - Make My Day (Re-Mastered)
Submitted by mfizzel on Tue, 02/14/2006 - 1:11pm.
Classic / Old | Dirty Harry | Mixtape Torrents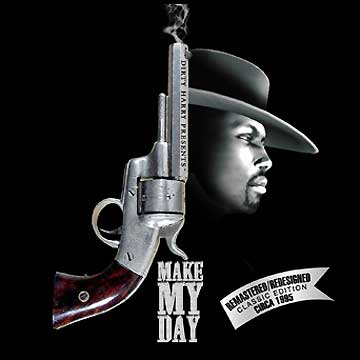 Dirty Harry aka. DHNY has been making major mixtapes for over a
decade, and this one's the proof. Straight from 1995, this joint is one
of Harry's bad azz remixtapes and this is the digitally re-mastered
special edition. Featuring blends & remixes with Biggie, Q-Tip, O.D.B.,
AZ, Red & Mef, GZA, Junior Mafia, Kool G Rap, Rakim, Fugees, KRS.

1 - Intro – Lost Boyz – Debarge Lifetime (Dirty Harry blend)
2 - Harry Interlude
3 - O.D.B. – Rawhide/Faith (Harry mix)
4 - Brandy – Friends (Harry remix)
5 - Mobb Deep (Quest To Drink Dirty mix)
6 - Water Runs Dry (Dirty Harry blend)
7 - Mr. Cheeks & Janet (Dirty Harry blend)
8 - A.Z. Sugarhill (Dirty Harry remix)
9 - Red N' Meth How High (Dirty Harry remix)
10 - O.D.B. Shimmy In Debt To You (Dirty Harry remix)
11 - Mary J. – It Rains (Dirty Harry Biggie blend)
12 - GZA/Genius - Labels
13 - Brownstone – Masta I.C. (Dirty Harry mix)
14 - Adina Up & Down (Dirty Harry mix)
15 - Kool G. Rap – For The Money (Dirty Harry mix)
16 - Making Moves With Harry (Dirty Harry Craig Mack blend)
17 - Raekwon - Criminolgy
18 - Junior Mafia – Players Anthem (remix) (Dirty Harry blend)
19 - Applebum Anthem
20 - Rap Figures II (Dirty Harry mix)
21 - Glaciers Of Ice Mix Down
22 - Faith – U Used To Love Me (Dirty Harry blend)
23 - Junior Mafia / Mary J. (Dirty Harry blend)
24 - Big Poppa Verse (Dirty Harry mix)
25 - Rakim – NY To Cali (Dirty Harry remix)
26 - Channel Live – Rapheal (Dirty Harry mix)
27 - Bite This Mary Sh#!
28 - Q- Tip verse Glamour Glitz (Dirty Harry blend)
29 - Raekwon – Incarcerated Scarfaces
30 - Monica (Dirty Harry Incarcerated Scarfaces blend)
31 - Fugees Ooh La La
32 - Ladies Do The James Brown (Dirty Harry mix)
33 - All Veronica Needs (Dirty Harry mix)
34 - Al B. Sure – KRS (Dirty Harry blend)
35 - KRS – M.C.'s Don't Know
36 - X-scape For A While
37 - Das EFX – REAL Hip Hop (Dirty Harry remix)
38 - Raekwon – Ice Cream
How To DOWNLOAD