Dirty Harry - Tommorrow Never Dies (Remastered - Classic Edition)
Submitted by mfizzel on Mon, 07/31/2006 - 9:56am.
Classic / Old | Dirty Harry | Mixtape Torrents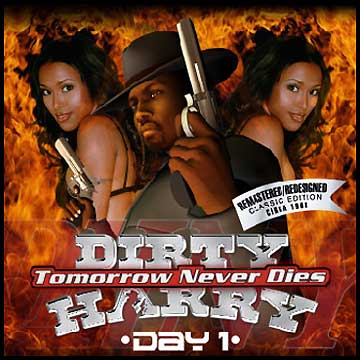 Dirty Harry digitally remasters a mid-90's mixtape classic (Harry
only drops classics) for your collection. This joint is part of the
Dirty Harry Collection and is vintage Harry. Check out the mixes
and blends featuring Jay-Z, Foxy Brown, DMX, Mary J. Blige, Fat
Joe, Tribe Called Quest, NORE & Michael Jackson, Outkast, Pun.

1 - Tomorrow Never Dies Intro
2 - Rap Figures Without A Pause (Harry blend)
3 - New Edition b/w Cha Cha Cha (Harry blend)
4 - Black Rob- I Dare You (Harry Mix)
5 - Monica - The First Night b/w Criminal Minded (Harry blend)
6 - Jay Z feat. Amil & Ja - Can I Get A...(remix)
7 - Nas - Soundtrack To The Streets
8 - Noreaga - Superthug b/w Michael Jackson (Harry blend)
9 - Dmx - Anthem b/w Shout Prayer (Harry blend)
10 - Foxy & Lox - My Niggas Mix (Harry blend)
11 - Cassonova b/w Banned From T.V. (Harry blend)
12 - Kid Capri feat. Noreaga, Keith Murray, Big Pun
13 - Ooh This Love b/w Gunz & Tariq (Harry blend)
14 - Fat Joe - Don Cartegena Verse
15 - Mobb Deep - Ain't The Size Of Me
16 - Brandy & Monica b/w Tribe Called Quest - Footprints(Harry blend)
17 - Faith - Love Like This b/w Gangstar - Take It Personal (Harry blend)
18 - The Female Rap Figures (Harry blend)
19 - Mary J. Blige - Beautiful (Harry blend)
20 - Tomorrow Never Dies Rap Figures (Harry blend)
21 - Cuban Link, Psycho Les of Beatnuts The Freestyle
22 - Mary J. Blige feat. Big Pun - Round & Round Pt II (Harry blend)
23 - Ghostface & Cappadonna - Cobra Clutch (remix) (Harry blend)
24 - Mya - 4kast b/w Doggy Dogg World
25 - Canibus - Get Retarded Harry Mix
26 - Fallin In Love Skit
27 - Miss Jones feat. Big Pun b/w E.P.M.D. - Gold Digger(Harry blend)
28 - Outkast feat. Raekwon Skew On The Bar-B
29 - Flipmode - On The Line Outside b/w Finest (Harry blend)
30 - Krs-One feat. K Murray, Redman, K Priest, Run, Buckshot
31 - Kool G. Rap - Foul Cats Mix (Harry blend)
32 - Tomorrow Never Dies Skit
33 - L Boogie - Run Free
34 - Mobb Deep - Feel My Gat Blow
35 - Nicole feat. Big Pun - I Still Love You Blend
36 - Noreaga feat. Maze - Thug Poetry
37 - Next feat. Big Pun - I Still Love You
38 - Glaze Freestyle
How To DOWNLOAD