DJ 31 Degreez - South Star Generals #4 (Hosted By Lil Scrappy, Rick Ross & Kiotti)
Submitted by mfizzel on Fri, 05/12/2006 - 6:20am.
Dirty South | DJ 31 Degreez | Mixtape Torrents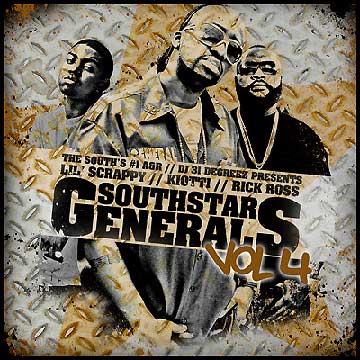 DJ 31 Degreez lines up his firing squad of Kiotti, Rick Ross and Lil'
Scrappy as this trio of hosts/Southstar Generals bring you a whole new
round of Southern heat from the Dirty South's brightest stars, including
Pimp C, T.I. w/ Bun B/Slim Thug/Rakim/Green Lantern, Magno, Clipse,
Lil' Jon, Sqad Up, Young Buck, Yo Gotti & Lil' Keke, Dirtbag, T Waters.
1 - DJ 31 Degreez feat. Kiotti – What's On My Mind
2 - Lil' Wayne, Baby, Six Shot - Hustle, Roll, Shine
3 - Rick Ross - Mr. Ross
4 - Pimp C - Get Down
5 - Lil' Scrappy & Lil' Jon - Gangsta Gangsta
6 - Roam Bad Daddy & Donnie Cross - Hustlin
7 - DJ 31 Degreez feat. Sqad Up - Gunz N Knapsack
8 - Freeway & Lil' Jon - Rep Ur Click
9 - DJ Khaled feat. Beanie Siegel & Jadakiss - The Problem
10 - Shiest Bub & Agallah - I Can Fly
11 - DJ 31 Degreez feat. Kiotti, Silky Blaq, J Lacey - I Believe It (Young Ink All Stars)
12 - Rick Ross - I Shot Ya
13 - DJ Green Lantern, T.I., Bun B, Rakim, Slim Thug - Get Ya Pay
14 - Too Short, Pimp C, Rick Ross - Money Maker
15 - Spider Loc & Young Buck - Dopeboyz Gotta Pay
16 - Daz, Rick Ross, Jermaine Dupri - Real Shit
17 - T. Waters, Jermaine Dupri, Nelly - What You Looking At?
18 - Clipse - Indy 500
19 - DJ 31 Degreez feat. Flame - Can I Live
20 - Rick Ross & Dirtbag – Don't Push Me (produced by Cool & Dre)
21 - Yo Gotti, Slim Thug, Lil' Keke - Lean On Me
22 - Lil' Scrappy & Young Buck - Money In The Bank
23 - All Star, Baby, Yo Gotti, Lil' Wayne - Grey Goose RMX
24 - Penelope, Lil' Wayne, Jody Breeze, Jazze Pha – Don't Miss Me With Foolishness
25 - Rick Ross - Favorite Girl
26 - Magno - Hustle Hard
27 - Kiotti - Phone Song
How To DOWNLOAD