DJ Clue - Hes A Hustler Pt. 2
Submitted by mfizzel on Tue, 11/29/2005 - 5:13pm.
Mixtape Directory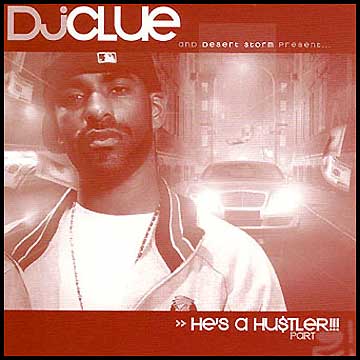 DJ Clue?, the Granddaddy of the Mixtape Hustle, is back on his grizzly
putting it down on this monstrous mixtape packed with exclusive joints &
freestyles from Fabolous, G-Unit/Tony Yayo, Nas, Cam'ron, Jeezy, all
of D-Block, Miri Ben Ari, Nas, Kanye West, Cassidy, Lil' Wayne, Lil' Jon.
1 - Problem Child - Jadakiss feat. Styles
2 - Bastard Iz Serious - Fabolous
3 - Honeymoon Is Over - Nas
4 - Don't Put Cho Handz On Me - DJ Clue feat. Lil Jon, Scrappy, Lil Flip & Juvenille
5 - Girl, Cash, Cars - Camron
6 - We Gon Win - Styles & Miri Ben Ari
7 - All 4 You - A-Team
8 - Outta Control - Mobb Deep & 50 Cent
9 - You Don't Luv Me - Stack Bundles
10 - Streets On Lock - Fabolous feat. Young Jeezy & Blue
11 - We Do It - Sheek feat. Jadakiss
12 - Dear Summer - Jim Jones
13 - Bird Call - Camron & J.R. Writer
14 - Dirty - Remy Martin
15 - Hate Me Now - Gravy
16 - Tony Yayo Freestyle
17 - Bling - Red Cafe feat. Fabolous
18 - Gold Digger - Kanye West
19 - Something New - Camron & Jaheim
20 - Why Would She - Stack Bundles feat. Rell
21 - 6 Minutes Of Pain - Cassidy feat. Fabolous & Lil Wayne
22 - Team Work 2 - Team Arliss
How To DOWNLOAD