DJ Scoob Doo - The Hustler's Code Vol. 1 (Hosted By Jim Jones)
Submitted by mfizzel on Fri, 05/05/2006 - 7:27am.
East Coast | DJ Scoob Doo | Mixtape Torrents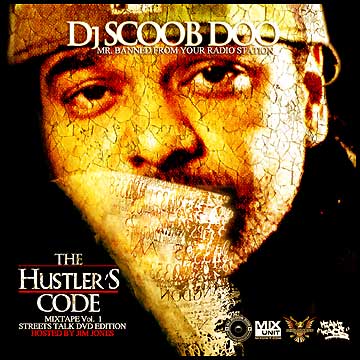 DJ Scoob Doo follows up the Streets Talk DVD with the official sequel
mixtape featuring special host Jim Jones. Premiering a couple of Capo
joints, including a Loon & Mase diss, this mixtape also brings you new &
exclusive heat from all of D-Block, Fabolous & Paul Cain, Kanye West,
Papoose, Jae Millz, Juelz Santana, Mobb Deep, Stack Bundles & Jeezy.

1 - Intro
2 - Jim Jones - Hustle Code
3 - Jim Jones - Don't Forget About Me
4 - Jim Jones & Max B - Frustrated At My Hustle (Dissin' Loon & Mase)
5 - Jadakiss & Styles P - Shots Fired (Dissin' 50 Cent)
6 - Styles P - So Called Gangstas
7 - J-Hood - My Hustle Done Came Up
8 - Hell Rell - Hustle For Blodd Money
9 - Juelz Santana - Move
10 - Kanye West feat. Jadakiss, Styles P, J-Hood & Sheek - Touch The Sky (remix)
11 - Kanye West feat. Papoose & Tre Williams - Hustle For My Momma
12 - J-Hood - It's My Time, It's My Hustle
13 - Fabolous, Paul Cain - I Be Smoking
14 - Young Jeezy - Ya Dig???
15 - Hell Rell, Cam'ron - Laughin'
16 - Jim Jones - Interlude
17 - Jim Jones - Hustle For Doe
18 - Smitty & Jae Millz - Ghetto Boys Hustlin
19 - Mobb Deep - System
20 - Game - Tell Me
21 - Fabolous & Stack Bundles - Step Out
22 - Styles P & Team Arliss - Shoot 'Em
23 - Jim Jones - Interlude
24 - Jim Jones, Juelz Santana, Razah - We Back
25 - Tre Williams & Papoose - Hustlers Dream
26 - Streets Talk DVD Outro
How To DOWNLOAD