DJ Clue - ClueVinci Code
Submitted by mfizzel on Thu, 05/25/2006 - 4:04am.
East Coast | DJ Clue | Mixtape Torrents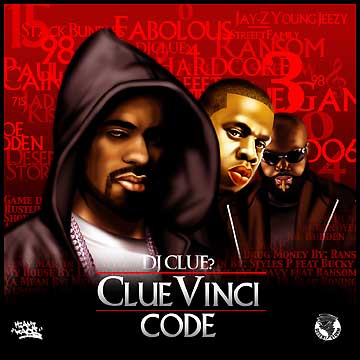 DJ Clue? is on the case, trying to unravel a mixtape mystery that has
been kept a secret for generation: How did "Clue?" become the standard
for mixtape quality? The Godfather of Mixtapes/Desert Storm founder is
uncovering new hip-hop from Fabolous & Stack Bundles, Styles P., Joe
Budden, The Game, Nas & Busta, Gravy, Pharrell & Kanye, J-Hood &
Jadakiss, Lloyd Banks, MOP, Ray J w/ Snoop & Nate Dogg & Ransom.

1 - Game Intro
2 - What Ya Hood Like - Ransom feat. Fabolous & Stack Bundles
3 - Hustlin (remix) - Rick Ross feat. Jay-Z & Young Jeezy
4 - Freestyle - Fabolous feat. Ransom & Paul Cain
5 - Show You How - Styles P feat. Don D. & T.Y.
6 - Rough Around The Edges - Busta Rhymes feat. Nas
7 - All Up On Me - J-Hood feat. Jadakiss
8 - Smokin Smokin Weed (remix) - Ray J feat. Snoop Dogg, Nate Dogg, DJ Clue & Shorty Mac
9 - Stuntin (remix) - Joe Budden
10 - Will I Die - The Game
11 - Murder Rate - M.O.P.
12 - Big Cannons - Gravy feat. J-Hood
13 - Drug Money - Ransom
14 - Remy Martin Freestyle
15 - We Goin In - Styles P feat. Bucky
16 - My House - Lloyd Banks
17 - The Game - Gravy feat. Styles P
18 - Ya Mean - Method Man feat. Styles P & Fat Joe
19 - Slap Boxing - Gravy feat. Styles P
20 - Number One - Pharrell feat. Kanye West
21 - Art Of War - Team Arliss
BONUS TRACKS
22 - Thug It Out - Jadakiss
23 - Water Damage - T. Waters
How To DOWNLOAD