DJ Envy - NY Transporters #3
Submitted by mfizzel on Thu, 05/04/2006 - 5:04am.
Mixtape Directory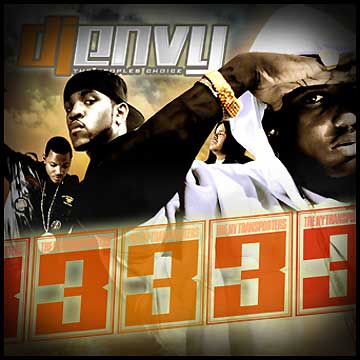 DJ Envy is moving that hip-hop sh*t from state to state with this joint
featuring hip-hop's biggest stars from coast to coast. Making a run for
that hip-hop mixtape crown, The People's Choice returns with a gang of
new tracks, freestyles & exclusives, including plenty of new G-Unit +
tracks by Lupe Fiasco & Pharrell, Fabolous/ Lil' Wayne/Jae Millz, Joe
Budden, Game, Fat Joe, Freeway, DMX, Mobb Deep, M1 & Rick Ross.

1 - Freestyle - Fabolous
2 - Bring It Back (remix) - Jae Millz feat. Fabolous & Lil Wayne
3 - Keep It On The Low - LL Cool J feat. Lloyd Banks & 50 Cent
4 - New Jerz Shit - Joe Budden
5 - Damn - Fat Joe
6 - Bang Bang - Freeway feat. 50 Cent
7 - Cake - Lloyd Banks feat. 50 Cent
8 - Stuntin - Joe Budden feat. Coke
9 - What We Gon Do Here - DMX feat. Freeway
10 - Getting Some Head (remix) - Shawnna feat. Lil' Wayne, Rick Ross, Pimp C, Too Short, Pharrell, Busta Rhymes & Ludacris
11 - Ain't Nowhere To Hide - DMX (full song)
12 - Click Click - Mobb Deep feat. Tony Yayo
13 - Who Want A Problem - Styles P feat. Swizz Beatz
14 - Will I Die - The Game
15 - Kick, Push (remix) - Lupe Fiasco feat. Pharrell
16 - Can't Get Enough - Claudette Ortiz feat. Mase
17 - Worth Ya While - Sterling feat. Mase
18 - Like This - Marques Houston feat. Young Joc
19 - Lord Give Me A Sign - DMX
20 - Thug In You - Mobb Deep (not on album)
21 - Yup - M1 feat. Rick Ross & NORE
How To DOWNLOAD