DJ On Point - G-Unit Is The Army
Submitted by mfizzel on Fri, 07/28/2006 - 4:39am.
East Coast | DJ On Point | Mixtape Torrents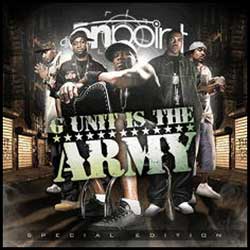 DJ On Point puts some shine on the entire G-Unit family on this new mixtape profiling
rap's most hated (and loved) rap group.
Breaking in a handful of new tracks plus all the recent mixtape bangers, this mixtape
features music from the entire G-Unit camp, including 50 Cent, Mobb Deep, Lloyd Banks,
M.O.P., Young Buck, 40 Glocc, Freeway and Nyce.
This mixtape features a collection of remixes, freestyles and unreleased tracks and
includes cameos by Jay-Z, Beanie Sigel & Papoose.

01. Mobb Deep - You Aint A Gangsta
02. Lloyd Banks - Come Up Show Freestyle
03. M.O.P. feat. Busta Rhymes - Monkey Shit
04. Prodigy feat. Nyce - We The Best
05. 50 Cent feat. Mobb Deep - I Don't Understand
06. Mobb Deep feat. 50 Cent - Check 1, 2
07. Lloyd Banks feat. Prodigy & 50 Cent - Bitch Get Off Me
08. Mobb Deep feat. 50 Cent - Nah
09. Young Buck feat. 50 Cent - Do It Myself
10. M.O.P. feat. Papoose & Beanie Sigel - Murder Rate (remix)
11. Freeway feat. Jay-Z - World War 3
12. Mobb Deep feat. Nyce - Never, Never
13. Nyce - Rider
14. 40 Glocc - House & Hoes
15. Lloyd Banks feat. 50 Cent - Hands Up
16. M.O.P. - Stop Pushing
17. Young Buck feat. Mobb Deep - Project Niggas
18. 50 Cent - Paper Chaser
19. 50 Cent - Stop Crying
20. Mobb Deep feat. 50 Cent - Straight Murda
21. Mobb Deep - So Ill
How To DOWNLOAD