DJ Kay Slay - Can't Stop The Reign (Hosted By Jim Jones)
Submitted by mfizzel on Mon, 04/17/2006 - 11:00am.
Mixtape Directory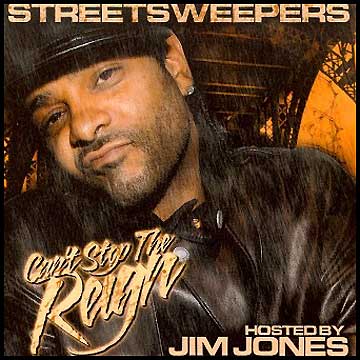 The Drama King DJ Kay Slay hooks up with The Diplomats' own Jim
Jones for this special edition "Drama Hour" mixtape featuring all-new
hip-hop, freestyles and exclusives from the industry's heavyweights,
including Papoose, Lloyd Banks, Busta Rhymes, Mobb Deep/Young
Buck, T.I. & Jamie Foxx, Cam'ron & Hell Rell, LL Cool J, Ghostface.

Props PLAT1NUM
1 - Jim Jones Intro
2 - Papoose - Now Or Never
3 - Jim Jones - Whip Ya Head
4 - Busta Rhymes - The Big Bang
5 - Lloyd Banks - 70 Bars Of Death
6 - Remy Martin feat. Papoose, Lil' Wayne, Trina & Jae Millz - Conceited (remix)
7 - Mobb Deep feat. Young Buck - Give It To Me
8 - Cam'ron feat. Hell Rell - Blew Out His Brains
9 - Remy Martin feat. Jae Millz - What You Wanna Do
10 - Papoose feat. Busta Rhymes - Get Right
11 - Jadakiss feat. Swizzbeatz - It Can Get Ugly
12 - Mobb Deep feat. 50cent & Mary J. Blige - It's Alright
13 - LL Cool J feat. Mary J. Blige - Favorite Flavor
14 - T.I. feat. Jamie Foxx - Live In The Sky
15 - Ghostface - Big Girl
16 - Sam Scarfo feat. Tony Yayo, Prodigy & 40 Glocc - It Is What It Is
17 - Cam'ron - Y'all Cant Live His Life
18 - Trae feat. Jimjones & Pimp C - The Swang (remix)
19 - Tommy Gunz & Al Capo - Strong Arm
20 - Wicked - Wicked This Wicked That
21 - Jim Jones Outro
How To DOWNLOAD