DJ Kay Slay - New York: The Influentials (Can't Stop The Reign #2)
Submitted by mfizzel on Thu, 06/01/2006 - 7:48pm.
East Coast | DJ Kay Slay | Mixtape Torrents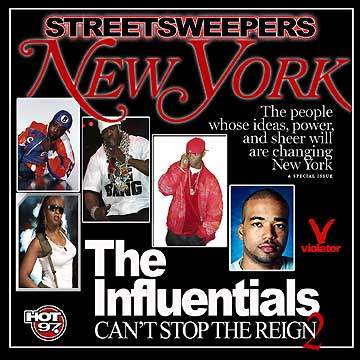 DJ Kay Slay 'From Around Ya Way' is on his mixtape shhhhh, bringin'
NYC back on his mixtape shhhhh. Paying tribute to New York's various
talents, this mixtape is all about a New York hip-hop revival. Featuring
the new Cam diss to Hova over Joc's "It's Goin' Down" beat + all-new
tracks and freestyles from heavyweights Papoose & Remy Ma, Busta
Rhymes, M.O.P., Nas, Juelz, Raekwon/Pete Rock, Lloyd Banks, Sigel.

1 - DJ Kay Slay Intro
2 - Papoose feat. Remy Martin - The Influentials
3 - Busta Rhymes feat. M.O.P. - Celebrate
4 - M.O P. feat. Papoose & Beanie Sigel - Murder Rate
5 - Busta Rhymes feat. Nas - Don't Get Carried Away
6 - Young Buck - Let 'Em Hate
7 - Lloyd Banks - I Can't Wait
8 - Beanie Sigel - Why Wouldn't I
9 - DJ Khaled feat. Fat Joe, Styles P., Rick Ross & Akon - Watch Out Now
10 - Busta Rhymes feat. Notorious B.I.G. - Knock You Out
11 - Young Buck - In My Hood
12 - Cam'ron - It's Goin' Down (Dissin' Jay-Z)
13 - Lloyd Banks - Lamborghini Lloyd
14 - Busta Rhymes feat. Raekwon - Goldmine
15 - Raekwon feat. Pete Rock & Masta Killa - The PJ's
16 - DJ Khaled feat. Juelz Santana - Addicted
17 - Busta Rhymes feat. Rick James - In The Ghetto
18 - Joe feat. Papoose - Where You At
19 - DJ Kay Slay & Greg Street feat. Shaq Diesel, Papoose & Bun-B - Can't Stop The Reign 2006
20 - Method Man feat. Lauryn Hill - Things They Say
21 - Busta Rhymes feat. Stevie Wonder - Been Through The Storm
22 - Vein feat. Uncle Murda - From BK To VA
23 - Rick Ross feat. Young Jeezy & Jay-Z - Hustlin' (remix)
24 - Al Capo & Tommy Gunz - Whacked
25 - The League - Drugs
How To DOWNLOAD