DJ Kay Slay - We're Part Of The Pavement
Submitted by mfizzel on Fri, 08/11/2006 - 6:00am.
East Coast | DJ Kay Slay | Mixtape Torrents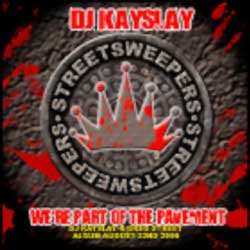 Streetsweeper Kay Slay and legendary
Southern radio DJ Greg Streets are so 'street'
they're Part of the Pavement. In preparation
for their August 22nd The Champions - North
Meets South KOCH compilation, 'The Drama King'
is pounding the streets with the hardest
hip-hop, North to South.
Featuring all-new tracks and exclusive
freestyles, this mixtape's marquee tracks
feature cuts off the Slay & Streets album +
joints featuring Papoose, Rick Ross, Busta
Rhymes, Lil' Kim & Maino, Cam'ron, Jadakiss,
Method Man/Raekwon/RZA, Remy Ma & Hell Rell,
Yung Joc & Chamillionire, Dre, M.O.P. and
more.

1 - Intro
2 - Papoose Freestyle
3 - Busta Rhymes Freestyle
4 - Rick Ross Freestyle
5 - Lil' Kim feat. Maino & Papoose - Brooklyn 4 Life
6 - Papoose, Yung Joc Chamillionaire - Pop The Trunk (DJ Kay Slay & Greg Street album)
7 - Lil' Kim - The Games In Trouble
8 - Cam'ron - Weekend Girl
9 - Vein feat. Remy Ma - Rough Around The Edges
10 - Remy Ma, Papoose &Hell Rell - The Hardest Out (DJ Kay Slay & Greg Street album)
11 - M.O.P. - Make 'Em Clap
12 - Jadakiss, Styles P. & Sheek Louch - Who Want A Problem? (remix)
13 - Labba feat. Busta Rhymes - Make A Lane
14 - Method Man feat. Raekwon & The RZA - Presidential MC
15 - Trina - What's Beef (diss record)
16 - DMX feat. Amerie - Dog Love
17 - Dre feat. Keyshia Cole - Be Somebody
18 - Omarion feat. Papoose - Entourage (remix)
19 - Akon feat. Snoop Dogg - I Wanna Fuck You
20 - Wicked feat. J.R. Writer - How We Livin'
21 - Al Capo & Tommy Gunz feat. Remy Ma - Bronx Tale
22 - Kross - Sal Sal
23 - Big Truck Freestyle
How To DOWNLOAD