DJ Kay Slay & Young Jeezy - Live At Shade 45 Part 4
Submitted by mfizzel on Fri, 03/03/2006 - 5:05pm.
Mixtape Directory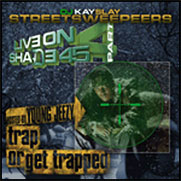 DJ Kay Slay brings you inside the booth with him at his SHADE 45
radio show, The Drama Hour, as ATL's Snowman Young Jeezy pays
him a little visit. With new interviews & freestyles from Jeezy, this
mixtape also breaks out new exclusives from Papoose, Ghostface,
Cassidy, Busta Rhymes, Lloyd Banks, Bun B & Pimp C, Raekwon.

1 - DJ Kay Slay & Young Jeezy - Intro (LIVE At SHADE 45)
2 - DJ Kay Slay & DJ Greg Street feat. Papoose, Bun B. & Shaq Diesel - Can't Stop The Reign 2006
3 - Lloyd Banks - You Already Know (remix)
4 - Ghostface feat. Raekwon - Ragu
5 - Busta Rhymes feat. Cassidy & Papoose - Psycho
6 - Young Jeezy Freestyle
7 - DJ Kay Slay & Young Jeezy - LIVE At SHADE 45
8 - Ghostface - Murder Goons (Not On The Album)
9 - Raekwon - I'll Kill You
10 - DJ Kay Slay & Young Jeezy - LIVE At SHADE 45
11 - DJ Kay Slay & DJ Greg Street feat. Lil' Jon, Lil' Flip, Lil' Scrappy & Lil' Wyte - Big Problems
12 - Pimp C feat. Bun B. & Paul Wall - Hold Up
13 - Busta Rhymes feat. Mary J. Blige, Rah Digga, Missy Elliott, Lloyd Banks, Papoose & DMX - Touch It (video remix)
14 - Shawnna feat. Busta Rhymes - Gettin' Some Head (remix)
15 - Ghostface feat. Raekwon, ODB, Cappadonna, Masta Killa & U-God - 9 Milli Brothers
16 - DJ Kay Slay & Young Jeezy - LIVE At SHADE 45
17 - Christina Milian feat. Young Jeezy & Juelz Santana - Say I (remix)
18 - DJ Green Lantern feat. Juelz Santana & Dem Franchise Boyz - Show You What I'm Workin' With
19 - T-Pain feat. Twista, Pimp C, Paul Wall, Busta Rhymes, MJG & Too Short - I'm In Luv Wit A Stripper (remix)
20 - Notorious B.I.G. feat. Redman, Busta Rhymes & Nate Dogg - We Want Biggie
21 - DJ Kay Slay & Young Jeezy - LIVE At SHADE 45
22 - Papoose - Law Library
23 - The Govament feat. Bun B. - Talking 'Bout Us
24 - Wicked - Ghetto Life
25 - DJ Kay Slay & Young Jeezy - LIVE At SHADE 45
How To DOWNLOAD