DJ Kay Slay - Down With the King Pt. 3
Submitted by mfizzel on Thu, 02/02/2006 - 9:47am.
Mixtape Directory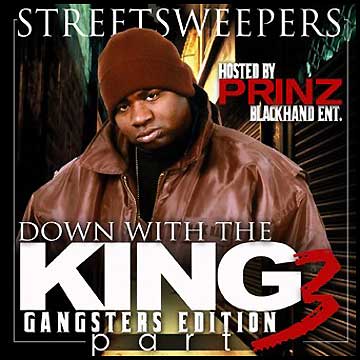 DJ Kay Slay follows up his DVD and Papoose mixtape with the final
leg of his triple threat, this exclusives-packed mixtape hosted by Prinz
(of Blackhand Ent. — Grafh's label). This joint features the Cam'ron
Jay-Z diss remix + tracks/freestyles with 50 Cent & M.O.P., Papoose,
Maino & Lil' Kim, Busta Bus, Remy Ma, Royce 5'9", Cassidy, D-Block...

01 0:12 Prinz (Blackhand Ent.) - Intro
02 4:46 Papoose - Freestyle
03 3:34 Prinz (Blackhand Ent.) - Freestyle
04 9:29 The Game - 240 Bars
05 4:20 50 Cent - Not Rich & Sill Lyin'
06 1:04 Lloyd Banks - You's A Hoe
07 4:31 Mobb Deep - Put 'Em In Their Place
08 4:10 Remy Martin - She's Gone
09 3:41 Busta Rhymes Feat. Papoose & Lloyd Banks - Touch It
10 3:56 Busta Rhymes Feat. DMX - Touch It (Remix)
11 5:36 DJ Khaled Feat. Paul Wall, Fat Joe, Lil' Wayne, Rick
12 4:25 Rick Ross Feat. Busta Rhymes - Hustlin' (Remix)
13 3:40 Kanye West Feat. Papoose - Dear Mama (Remix)
14 2:23 Nas - Jackin' 4 Beats 2006
15 2:51 Prinz (Blackhand Ent.) - Freestyle
16 3:54 Remy Martin - Lights, Camera, Action
17 3:18 Lil' Eazy E - Back To Compton
18 3:29 Lloyd Banks - Searchin' For Something
19 5:53 Atlas Feat. C-Note - Seven Days A Week
20 2:54 Wicked - Get Fucked Up
21 4:04 Prinz (Blackhand Ent.) - Freestyle
How To DOWNLOAD