DJ Killa K Presents - Young Breed (Trap Certified)
Submitted by mfizzel on Wed, 08/19/2009 - 9:34am.
Dirty South | DJ Killa K | Dopeboy Muzik | Mixtape Torrents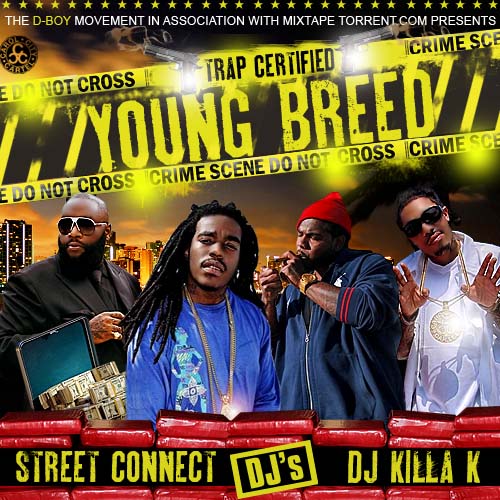 DJ Killa K and MixtapeTorrent.com are back with the 2nd installment in the classic Trap Certified series!
Next up to shine is MIYAYO's own Young Breed, the newest member out of the Triple C camp. Co-signed by the streets of Dade County and The Boss himself Breed is a problem!
Featuring top notch production and exclusive freestyles Killa K is at it again with another must download DOPEBOY classic!
Download the 1st installment in the Trap Certified series with Toe Down & G-Boi: DJ Killa K, G-Boi & Toe Down - Trap Certified (Dopeboy Muzik Special Edition)
01. Intro
02. Go
03. Throw Ya Hands Up (Freestyle)
04. Young Breed (Trapcertified Interlude)
05. Evryday
06. Yams
07. Throw It In The Sky
08. U Da Best (Freestyle)
09. Young Breed(Street Connect Interlude)
10. Hussle (Freestyle)
11. Jerk (Freestyle)
12. 5 Star Bitch (Freestyle)
13. Moneybags(Freestyle)
14. Masspike Mile Schecks In
15. Night & Day
16. We Still Trappin(Interlude)
17. Rep My City
18. The Boss Checks In
19. Wat Dey Ask For
20. Shone Roll Call
21. Iwanna Freak
22. The One
23. Street Life
24. Tote Fire
25. We On Dat
26. Outro
How To DOWNLOAD