DJ L - Can't Deny It Pt. 3
Submitted by mfizzel on Thu, 08/31/2006 - 9:18am.
East Coast | DJ L | Mixtape Torrents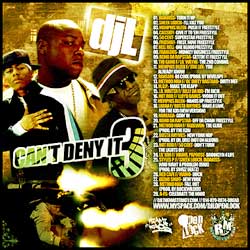 Always having the hip-hop mixtape game on
Open Lock is definitely DJ L's thing. You can't
deny it. At least that's L's story. We're with
him on that one.
Probably putting out a new hip-hop mixtape
every 2 weeks, L always has his finger on the
pulse of hip-hop. This mixtape is no different,
keeping an ear to the street with all-new
hip-hop from coast to coast.
This mixtape is heavy on the beat-thievery
(MAD FREESTYLES!) and heavy on the
potency. Featuring new joints from Cassidy, 50
Cent, Jadakiss, Method Man & ODB, Fabolous,
The Game & Lil' Wayne, Hell Rell, Sheek,
Freeway, Ransom, Noreaga and more.

1 - Jadakiss- Turn It Up
2 - Sheek Louch- I'll Kill You
3 - Memphis Bleek- Push It Freestyle
4 - Cassidy- Give It To 'Em Freestyle
5 - 50 Cent- Superstar Freestyle
6 - Freeway- First, Now Freestyle
7 - Hell Rell- One Blood Freestyle
8 - Fabolous- Monkey Business Freestyle
9 - Remo Da Rapstar- Gettin' It Freestyle
10 - The Game feat. Lil' Wayne- The 2nd Coming
11 - Memphis Bleek feat. Tru Life- You Already Kno
12 - Ransom- Be Cool (produced by Develop)
13 - Method Man feat. Ol' Dirty Bastard- Dirty Mef
14 - M.O.P.- Make 'Em Klapp
15 - J.R. Writer feat. Billy Da Kid- I'm Rich
16 - Hot Rod feat. Lloyd Banks- Work It Out
17 - Memphis Bleek- Hands Up Freestyle
18 - Labba feat. Busta Rhymes- Make A Lane For The Kid (New Version)
19 - Noreaga- Goin' In
20 - Remo Da Rapstar- Off Da Chain Freestyle
21 - Method Man feat. Raekwon- The Glide (produced by The RZA)
22 - Busta Rhymes- New York Hop (produced by Dr. Dre) (Not On Album)
23 - Hot Rod feat. 50 Cent- Don't Turn The Lights Off
24 - Lil' Kim feat. Maino, Papoose- Brooklyn 4 Life
25 - Styles P. feat. Sheek Louch, Jadakiss- Who Want A Problem (Rmx) (produced by Swizz Beatz)
26 - Red Cafe feat. Maino- Duck
27 - Deeno Snuff- New York
28 - Method Man- Fall Out (produced by Rockwilder)
29 - A-FS- Celebrate The Hood
How To DOWNLOAD