DJ Moe Sticky - Jim Jones: Jimmy Blanco
Submitted by mfizzel on Sat, 04/08/2006 - 7:21am.
Mixtape Directory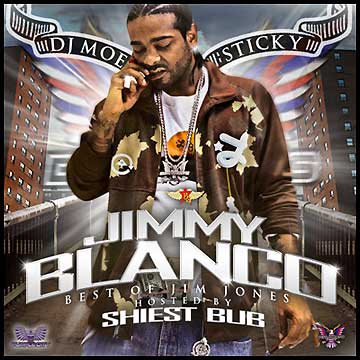 DJ Moe Sticky (official DJ of The Diplomats) is joined by Dipset fam
Shiest Bub "Parker" of the Purple City gang as this duo brings you a
mixtape tribute to Dipset's G'd up businessman Jim Jones aka. Jimmy
Blanco. This mixtape features nothing but classics from Sizzurp-sippin'
Jimmy, including Harlem classics, freestyles, remixes and rare tracks.

1 - 'Bout It (Intro)
2 - Interview
3 - Freestyle
4 - Ball Out (remix)
5 - Gun Go (remix)
6 - Trap Nigga feat. Shiest Bubz & Un Kasa
7 - What's Really Good
8 - Crunk Muzik
9 - Purple City Byrd Gang
10 - Problem
11 - What Is Gangsta feat. Juelz
12 - Harlem
13 - Lovely Daze
14 - Whatever feat. Lil' Wayne & Juelz
15 - Certified Gangsta
16 - No Drama feat. Trey Songz
17 - Confront Ya Babe feat. Max B
18 - Let's Ride feat. J.R. Writer
19 - Bang For Byrdgang feat. Max B
20 - Summer In Miami feat. Trey Songz
21 - Honey Dip feat. Juelz & J.R. Writer
22 - In Love
23 - What You Drinkin' On
24 - Get Money feat. Jeezy & Juelz
25 - Round Here feat. Game
26 - This Is That feat. Juelz & Game
27 - Byrdgang feat. Max B
28 - Tupac Joint
29 - So Fly (remix) feat. Jha Jha & Max B
30 - Our Shit feat. Max B
How To DOWNLOAD