The Diplomats - Who Else But Us?
Submitted by mfizzel on Fri, 04/07/2006 - 1:55am.
Mixtape Directory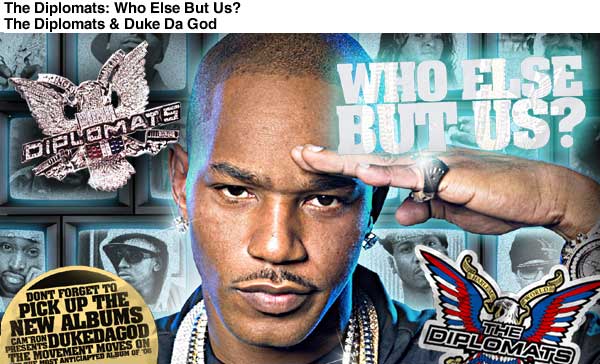 Calling all Shottas, the entire Dipset squad is in the building and back with their first team mixtape since The Title Says In Harlem. Bringing the entire Byrdgang along on this one, this mixtape brings you nearly all-exclusive material from Harlem's beloved rap superheroes.
Broadcasting live from 145th & Broadway, Diplomats' A&R Duke Da God brings you this special edition Dipset family mixtape to preview the upcoming Asylum/Rap-A-Lot album from Duke's army, as well as the upcoming film and soundtrack for Cam'ron's acting debut Killa Season, which opens in theaters April 25th. With the movement definitely MOVING MOVING, this mixtape is nothing but Harlem heat.
This official Dipset mixtape features 20 new tracks, freestyles and exclusives from the entire Diplomats camp: Killa Cam, Juelz Santana (AYE!), Jim Jones (sippin' Sizzurp), J.R. Writer (pick up WBIII), and Hell "Ruger" Rell. Never moving without The Movement, this mixtape also features guest shots from the entire, extended Dipset family, including Bezel, Jha Jha, Tom Gist, 40 Cal., A-Mafia, S.A.S., Max B & more. If that wasn't enough, be sure to check out the cameos from Stack Bundles and Lil' Wayne. Don't Fool With The Dips!
1. Duke Da God Intro
2. Cam'ron feat. Hell Rell - War
3. J.R. Writer feat. Hell Rell & Cam'ron - Grill 'Em (remix)
4. Bezel feat. Lil' Jah - Get Money
5. Jim Jones feat. Max B - Bright Lights, Big City
6. Hell Rell feat. Cam'ron - Laughin' At You First
7. 40 Cal. - The 40 Cal. Show
8. Cam'ron feat. Lil' Wayne - Suck It Or Not?
9. Juelz Santana - No Time
10. Juelz Santana - Losing My Love
11. Jim Jones feat. Max B, Mel Matrix & Stack Bundles - New York Minute
12. A-Mafia feat. S.A.S. - Yeah Yeah
13. Bezel Freestyle
14. Jha Jha - Callin'
15. Cam'ron - White Girl
16. J.R. Writer feat. S.A.S. - Reloaded
17. 40 Cal. - It's 40
18. Tom Gist - Dedication
19. 40 Cal. - Be Easy
20. A-Mafia - About My Business
How To DOWNLOAD