DJ NoPhrillz - World Recognition Vol 5
Submitted by mfizzel on Wed, 10/14/2009 - 9:22am.
General | Mixtape Torrents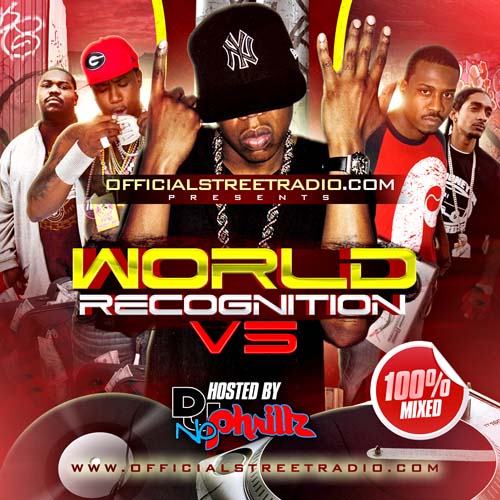 1. Jay-Z "I Am Hov"
2. Ameri ft. Freeway & Jakk Frost "Why R U"
3. Beanie Siegel ft. Peedi Crakk & Oschino "Get Down"
4. Miz M.A.F. ft. Mass Guilliano "Mad Izm 09"
5. Jakk Frost "Hip Hop Music 09"
6. OJ da Juiceman "Exclusive"
7. Sterling Sims "A Little Voice"
8. DJ Infamous ft. Young Dro, Jim Jones, Chubbie Baby, & Rick Ross "Feddy"
9. Chinko da Great "Drake Freestyle"
10. Jay-Z "A Billie"
11. Jay-Z "Pimp a Few Hoes"
12. Jay-Z ft. Beanie Siegel "Some Way"
13. Jay-Z "Where Im From"
14. Triple C's ft. Freck Billionaire "Go (War Ready)"
15. Maino ft. Mavado "Where Im From"
16. Jakk Frost ft. Freeway "How Many MC's 09"
17. Saigon "Free Tru Life"
18. Nooch "TrapStreet Exclusive"
19. Deap "Pump Heavy"
20. Peedi Crakk "Stick Em Up"
21. Freeway ft. Jakk Frost "Hit the Club Up"
22. Scholar ft. Young Ike Turna "Rainman"
23. Beanie Siegel "Ghetto"
24. Donny Goines "DREAM AWAKE" (Prod by Nastee)
25. R. Kelly ft. Snoop Dog "Pimpin Ain't Easy"
26. Amerie ft. Trey Songz "Pretty Brown Eyes"
27. Money Carsin "Head Jerk"
28. Ron Browz ft. Mase, OJ da Juiceman, Jim Jones, & Shorty Lo "20 Dollaz"
29. Sic Osyrus Ft. D Malone "Life Of Mine"
30. Jadakiss "End of Summer Freestyle"
31. Dell P "Here We Go"
32. Vixion "Money on my mind"
33. Philly Swain "DJ Let It Rock"
34. Beanie Siegel ft. Omillio Sparks & Freeway "Where My Opponent"
How To DOWNLOAD