J-Love - 50 Cent: Bulletproof #3
Submitted by mfizzel on Mon, 09/18/2006 - 10:54am.
East Coast | J-Love | Mixtape Torrents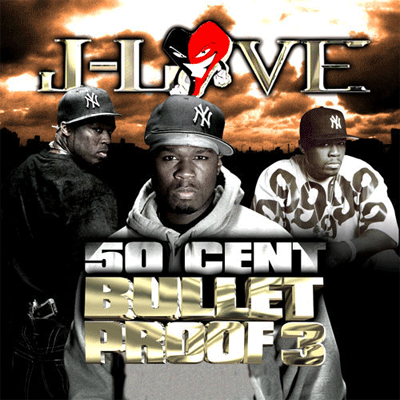 Everything the guy touches is fire, his flow is still Bulletproof. Some
people hate him, but most people love him. G-Unit is still the #1 mixtape
in the streets. J-Love takes a gang of 50 Cent material and compiles onto
one disc for the 3rd edition of his Bulletproof mixtape.
With a total of 25 new, unreleased and underground 50 Cent records out,
this mixtape also includes a gang of records from the dynasty Curtis
Jackson is building.
This mixtape features all 50 Cent tracks with cameos from G-Unit family
Banks, Yayo, Mobb Deep and M.O.P.

1 - 50 Cent - Ny To Compton
2 - 50 Cent - Pimpin Pt 2
3 - 50 Cent - Paper Chaser
4 - 50 Cent - Why You Lookin
5 - 50 Cent & Prodigy - Straight Murder
6 - 50 Cent & Mobb Deep - Nightmares
7 - 50 Cent & Mobb Deep - Crabz In A Bucket
8 - 50 Cent & M.O.P - Wartime
9 - 50 Cent & Lloyd Banks - Shitty City
10 - 50 Cent & Tony Yayo - Heartbeat
11 - 50 Cent & Mobb Deep - Look Out
12 - 50 Cent & G Unit - Thicker Then Water
13 - 50 Cent & Lloyd Banks - Cake
14 - 50 Cent & Mobb Deep - Pearly Gates
15 - 50 Cent & Notorious B.I.G - The Grind
16 - 50 Cent & Mobb Deep - Back Up On Me
17 - 50 Cent - Whoop Ya Head Boy
18 - 50 Cent & Mobb Deep - Back 2 Back
19 - 50 Cent & Mobb Deep - Nah
20 - 50 Cent - What If
21 - 50 Cent & Lloyd Banks - Hoes
22 - 50 Cent - I'm Not Rich And I'm Still Lying
23 - 50 Cent - U Heard Me
24 - 50 Cent - Get Out The Club
25 - 50 Cent & Lloyd Banks - I Get Dough
How To DOWNLOAD