DJ Radio - Mr. Sold Out #7: Introducing Killa Klump
Submitted by mfizzel on Mon, 05/29/2006 - 8:06am.
East Coast | DJ Radio | Mixtape Torrents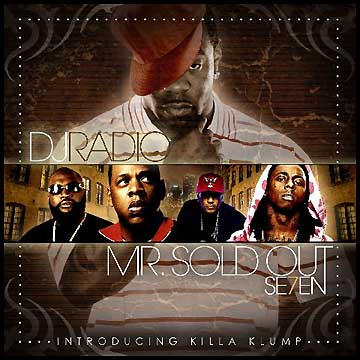 Mr. Sold Out DJ Radio is joined by the Sucka Free's own Killa Klump
as the NY Streetsweeper takes to San Francisco to help spread some
NYC awareness. Breaking all-new tracks from Coast to Coast (but with
an emphasis on NYC), this joint bangs out new sh*t by Busta Rhymes,
Nas, Cam'ron, Papoose & Michael Jackson, T.I. & Pimp C, Rick Ross,
Jay-Z & Jeezy, Hell Rell, Method Man, Fabolous, Fat Joe, Jod Budden.

1 - Intro
2 - Killa Klump, Eldorado Red, John D.O.E, Nucci Reyo - Freestyle
3 - Rick Ross feat. Jay-Z & Young Jeezy - Hustlin (remix)
4 - Ray Cash feat. T.I., Pimp C & Project Pat - Bumpy My Music (remix)
5 - Busta Rhymes, Freeway, Juice, Lil' Wayne, & T.I. - Cannon (remix)
6 - Nas feat. Busta Rhymes - Right Around The Edges
7 - Papoose feat. Michael Jackson - Make a Difference
8 - Young Jeezy feat. Ty Gracie - How To Be
9 - Hell Rell feat. Governor Brown - We Bang
10 - Camron - Killa
11 - Killa Klump feat. Noble - Higher
12 - Killa Klump - Freestyle
13 - Heat - Freestyle
14 - Skarr - Freestyle
15 - Fabolous - Street Fam
16 - Mobb Deep - So Ill [not on the album]
17 - Lloyd Banks - My House
18 - Method Man feat. Fat Joe & Styles P - Yah Mean
19 - Hell Rell feat. Un Kasa, Smoke & Numbers - The Apocalypse
20 - Remo - BX Psycho
21 - Jae Hood - Heart and Soul
22 - Joe Budden - The Word of Day
23 - Fat Joe - Damn
24 - Flawless feat. Push Montana - Amnesia
25 - Killa Klump feat. Yukmouth - I'm Good
26 - Jae Millz feat. Jadakiss, Fabolous & Lil' Wayne - Bring It Back (remix)
27 - Frankie Krutches - Animal
How To DOWNLOAD