Radio & DJ Domination - Styles P: Pressure
Submitted by mfizzel on Tue, 06/27/2006 - 5:29am.
East Coast | DJ Radio | Mixtape Torrents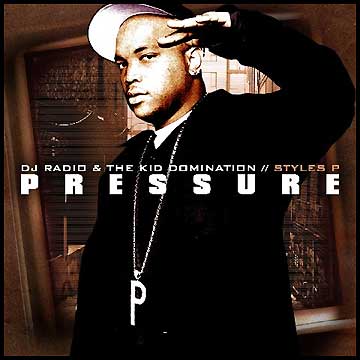 Radio & Domination bring you the Yonkers vet Styles P, one-third
of The Lox and one-fourth of D-Block for this mixtape the rapper
can't nobody see (so they call him The Ghost).
With his anticipated sophomore album Time Is Money slotted for a
2006 release, the streets stay hot with this mixtape and keep Pinero
in ya ear.
With 44 tracks featuring the D-Block assassin Styles P, this mixtape
brings you all-new Black Ice remixes, verses, freestyles, disses,
cameos and unreleased cuts. Also featuring Jadakiss, Sheek, J-Hood,
Akon, Swizz Beats, Fat Joe, Snyplife, Nas, Wyclef, Fabolous, St. Laz
& Killa Klump.

1 - Feel It In The Air feat. Jadakiss & Sheek Louch
2 - Money & Murder
3 - Take The Crown
4 - Who Want A Problem? feat. Swizz Beats
5 - The Corner feat. Akon
6 - D-Block
7 - History In The Making (Black Ice remix)
8 - Way We Get Down feat. Fat Joe, Wyclef & Snyplife
9 - Quick 3 Piece feat. J-Hood
10 - Us To U
11 - Without My Glock
12 - I Gets Busy
13 - Got Your Money
14 - Talk Of The Town
15 - Run With Them Niggas
16 - Verbal Murderers feat. Nas (Black Ice remix)
17 - Shots Fired feat. Jadakiss
18 - Shoot Em
19 - Go Hard feat. Killa Klump
20 - Favorite Drug
21 - Hustler
22 - Gun Talk
23 - Bang Bang
24 - Gun On My Waist feat. St.Laz (Black Ice remix)
25 - Just Another Day
26 - Posted On The Block
27 - Married To The Game
28 - Ms. Jackson
29 - Formula 50
30 - Hitmen feat. Fabolous
31 - For The Family
32 - Touch The Sky remix
33 - Raised With Them Gangstas
34 - Violence
35 - Survivors
36 - Livin My Life (Black Ice remix)
37 - Yeah, Yeah, Yeah
38 - Leavin The Game
39 - The Phone Song
40 - Shoot A Nigga
41 - Bang Out
42 - Some Day
43 - Favorite Drug (Black Ice remix)
44 - Call Me SP Pt. I (Black Ice remix) (produced by Velotz)
How To DOWNLOAD