DJ Smallz - Cool & Dre: The Epidemic Begins Now
Submitted by mfizzel on Tue, 07/11/2006 - 6:59am.
General | DJ Smallz | Mixtape Torrents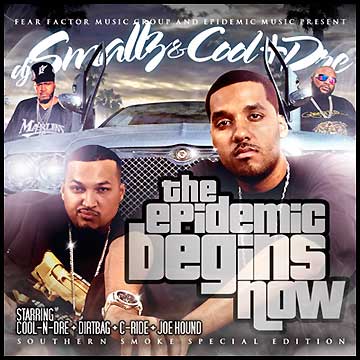 Miami hip-hop production tandem Cool & Dre have scattered the top of the
charts with major hits, recently "Holla At Me Baby" w/ DJ Khaled and "Say I" w/
Christina Milian. The duo of Andre Lyon and Marcello Valenzano are Miami's
finest boardsmen as well as proud owners of Epidemic Records. With Dre dropping
a solo (emcee-ing) album some time soon, the 305 is definitely shining right now.
Also catching a tan on this mixtape are Dade County locals Dirtbag (co-host) and
Rick Ross. This mixtape features a combination of Cool & Dre-produced records,
including a gang of joints from the DJ Khaled album, which they co-produced.
Featuring tracks from Rick Ross, Dirtbag, Clipse & Pharrell w/ Dre, Twista, Christina
Milian, Slim Thug & Chamillionaire, C-Ride, Trina, Nina Sky, Joe Hound and more .

1 - DJ Smallz & Dre – History In The Makin'
2 - Dre feat. Rick Ross – Chevy Ridin' High [produced by Cool & Dre]
3 - Dirtbag feat. Dre – Bring It Back
4 - Dirtbag feat. Bun B – Crusin'
5 - Rick Ross feat. Dre – Blow [produced by Cool & Dre]
6 - C-Ride feat. Dre & Dirtbag – Pushin' [produced by Cool & Dre]
7 - Nina Sky feat. Rick Ross – Flippin' That [produced by Cool & Dre]
8 - Akon, Styles P, Fat Joe & Rick Ross – Watch Out [produced by Cool & Dre]
9 - Dre – The Difference Between Me, Ye & Pharrell
10 - Clipse feat. Dre & Pharrell – Mr. Me Too (Remix)
11 - Twista & Bone Thugs-N-Harmony – Destroy You [produced by Cool & Dre]
12 - Slim Thug, Chamillionaire & Trina – Candy Paint [produced by Cool & Dre]
13 - Dirtbag feat. Missy Elliot – Hurt Somethin'
14 - Dre – Don't Embarrass Your System
15 - Dirtbag feat. Dre – Ladies Luv Me [produced by Cool & Dre]
16 - Rick Ross feat. Dre – Rap Star [produced by Cool & Dre]
17 - Christina Milian feat. Dre – Hot Boy [produced by Cool & Dre]
18 - Dirtbag feat. Three 6 Mafia – Shackles
19 - Dre – Not The Doctor But Still D.R.E.
20 - Dirtbag feat. Dre & C-Ride – Money Ova Here [produced by Cool & Dre]
21 - Dirtbag feat. Rick Ross & C-Ride – Live Fo & Die
22 - Dre feat. Dirtbag – Miami Dade County Soldier
23 - Joe Hound – Hustlin' & Chop Chop
How To DOWNLOAD