DJ Ideal - Boyz N Da Hood: Coming Straight Out The A
Submitted by mfizzel on Wed, 06/14/2006 - 7:08pm.
Dirty South | DJ Ideal | Mixtape Torrents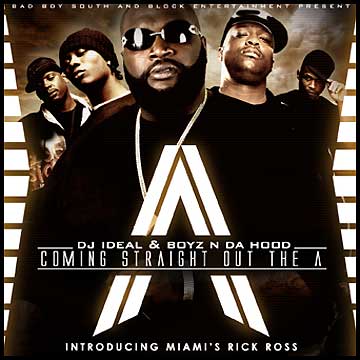 This mixtape might be called Straight Outta The 'A', but Boyz N Da Hood can no longer claim to be
solely A-Town. To help solidify the introduction of Miami hustler Rock Ross to the fold, Bad Boy
South and DJ Ideal launch this mixtape to let you know what this Dirty Southern rap collective is
all about.
With The Snowman Young Jeezy breaking out of the Atlanta-based group to focus on his solo career,
rappers Jody Breeze, Big Gee and Big Duke were combined with Rick Ross by Block and together
the group remains signed under Bad Boy South. This CD contains co-signs from Block & Diddy themselves.
Featuring new music, including track and freestyles, from Boyz N Da Hood.

1. P. Diddy - Starts It All Off
2. Rick Ross - Kush
3. Block - Checks In
4. Rick Ross & DJ Ideal - Whip Yo Head - Freestyle
5. Big Gee -& Young Jeezy - Small Things To A Giant
6. Boyz N Da Hood - Talk It Up With Ross
7. Big Duke Come Around
8. Boyz N Da Hood - Interlude
9. Jody Breeze Feat. Freeway - Fast Foward
10. Big Gee & Smitty - Ride Up
11. Big Gee - I Wonder
12. Big Gee - I Don't Lean Wit It I Don't Rock Wit it
13. Jody Breeze Feat. Jazze Pha & Bun B - Just Like I Said I Would
14. Block - Interlude - Headed To Da Bottom
15. Rick Ross- Port Of Miami
16. Boyz N Da Hood Feat. Dipset - Superstars
17. Big Gee - This The Real ATL
18. Big Gee - Before It All Goes Down
19. Rick Ross Time
20. Rick Ross - Black Mob
21. Block - Interlude - Feed The Hungry Album Coming Soon
22. Jody Breeze - It's Jody
23. Big Duke & Big Gee - Interlude - Ride Out Sideways
24. Big Duke Feat. Young Jeezy - If You A Gangsta
25. Boyz N Da Hood - Interlude - Shout To Block
26. Boyz N Da Hood Feat. Lil Wayne - Freestyle
27. Boyz N Da Hood With Rick Ross - Freestyle
28. Boyz N Da Hood - Outro
How To DOWNLOAD