DJ Smallz - Dirty RnB 9
Submitted by mfizzel on Tue, 11/22/2005 - 10:51pm.
Mixtape Directory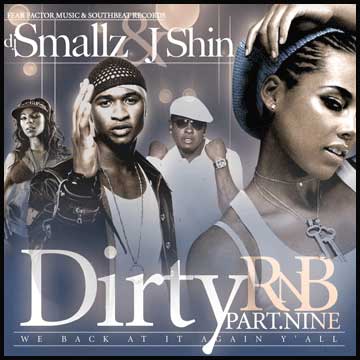 DJ Smallz is back at it again with special host J Shin (formerly of
Atlantic Records) as the two premiere J's new hit record "Baby Mama
Drama" and a gang of new Dirty South R&B remixes and club hits. With
all new records by Ashanti & Paul Wall/Method Man, Nelly, Chris Brown,
Slim Thug & Gwen Stefani, Big Boi, Mary J Blige & more, this one's BIG!
1 - DJ Smallz & J-Shin – Dirty R&B Intro
2 - Ashanti feat. Paul Wall & Method Man – Still On It
3 - Beyonce feat. Slim Thug & Swizz Beatz – Check Up
4 - Slim Thug & Gwen Stefani – Luxurious (remix)
5 - Nelly feat. Paul Wall & Jermaine Dupri – Grillz
6 - Big Boi feat. Mary J Blige & Santana – My Man
7 - Letoya Luckett feat. Lil' Jon & Ebony Eyez – I'm Good
8 - Chris Brown feat. Bow Wow & Jermaine Dupri – Run It (remix)
9 - T-Pain feat. Beenie Man & Pitbull – I'm Sprung (remix)
10 - Twista feat. Jaime Foxx & Pharrell – When I Get U Home
11 - Jaime Foxx feat. Ludacris – Unpredictable
12 - Juvenile feat. Cool & Dre – Rodeo
13 - T.I. feat. Cee-lo – Walk This Way
14 - Scar feat. Big Boi – U Got Me
15 - Trina feat. Snoop Dogg – Sexy Gurl
16 - Bella feat. Jody Breeze – Caught Up
17 - J-Shin – Baby Mama Drama
18 - Ms. Dynamite feat. Lil' Wayne – Don't Cry
19 - Hi-5 feat. Mike Jones & Paul Wall – Feelin' U
20 - D4L feat. Busta Rhymes – Laffy Taffy (remix)
21 - Bun B feat. Ying Yang Twins – Git It Girl
22 - Ying Yang Twins feat. Elephant Man – Shake (remix)
23 - Bubba Sparxxx feat. Ying Yang Twins – Ms. New Booty
24 - Twista feat. Pitbull & Mr. Collipark – Hit The Floor
25 - Gloria Velez feat. Pitbull & Lil' Jon – Don't Cha
26 - DJ Smallz & J-Shin – Dirty R&B Outro
How To DOWNLOAD