DJ Smallz & Bohagon - Who Am I? I'm Bohagon
Submitted by mfizzel on Sun, 08/27/2006 - 3:31pm.
Dirty South | DJ Smallz | Mixtape Torrents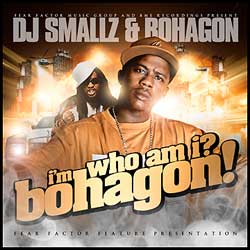 With a little bit of help from the major DJs in the mixtape game, Bohagon
will be introducing himself to the world with three new mixtapes. The first
of 3, DJ Smallz' newest mixtape lifts the curtain on Lil' Jon/BME's hungriest
emcee.
The leader of the GA Durt coalition defined as a lifestyle serving as the
crossroads where rap and blues intersect. With a definite A-Town sound,
Bohagon hits you with some snappin' and trappin' anthems.
This mixtape features nearly 20 new tracks, freestyles and remixes featuring
BME's Bohagon, including new cuts with Lil' Scrappy, Crime Mob, Fabo, Jody
Breeze, Chyna White, Jagged Edge and more.

1 - Who Am I? Intro feat. DJ Smallz
2 - Wuz Up feat. Fabo (of D4L), Diamond & Princess (of Crime Mob) [produced by Lil' Jon]
3 - Turn Up The Muthafuckin' Volume
4 - Gettin' Pussy feat. Lil' Scrappy [produced by Lil' Jon]
5 - You Ain't Know feat. Lil' Scrappy [produced by Lil' Jon]
6 - Bohagon's Ghetto P.S.A.
7 - Fuck You (The Bohagon Way)
8 - So Amazing feat. Jagged Edge [produced by Lil' Jon]
9 - Baby Girl feat. Diamond & Princess (of Crime Mob) [produced by Lil' Jon]
10 - Another Bohagon Ghetto P.S.A.
11 - I'm A Pimp feat. Rico Love & Jody Breeze
12 - Bohagon's Georgia Roll Call
13 - Money In The Hood feat. Lil' Scrappy [produced by Lil' Jon]
14 - Pussy Niggaz feat. E-40 & Lil' Scrappy [produced by Lil' Jon]
15 - A Southern Smoke Story (Kush Break)
16 - Stay Low feat. Trillville, Lil' Scrappy & Pitbull [produced by Lil' Jon]
17 - I'm Scared Of You feat. K.B., Young Buck & Khia
18 - Aww Skeet Skeet feat. Ying Yang Twins & Lil' L.A. (of Trillville)
19 - Huh Bruh (Remix) feat. Chyna Whyte, Yo Gotti, Gangsta Boo & Roam
20 - The Streets feat. Mr. Ward
21 - Georgia Durt Hustlin'
22 - Fantastic feat. Da Backwudz
23 - I'm Bohagon! Outro feat. DJ Smallz
How To DOWNLOAD