DJ Smallz - The G.R.i.T. Boys: G-Boy Fresh (Hosted By Paul Wall)
Submitted by mfizzel on Wed, 06/14/2006 - 6:48pm.
Dirty South | DJ Smallz | Mixtape Torrents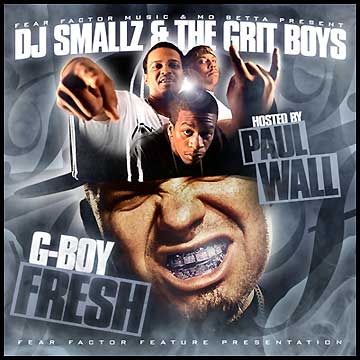 DJ Smallz takes to the Land of Lean to get it in with Paul Wall on this
mixtape introduction of The People's Champ's crew the G.R.i.T. Boys.
Bringing you something like a mixtape album, this nearly all-exclusive
compilation of tracks and exclusives from Unique, Scooby, Poppy &
Yung Redd is something serious. This authentic H-Town CD takes on a
somber note with what is believed to be one of HAWK's last freestyles.

1 - G-Boy Fresh Intro - DJ Smallz & Paul Wall
2 - Grind - Paul Wall, Yung Redd, Unique & Scooby
3 - Get Money, Get Ya Grind On - Poppy
4 - MVP - Young Redd
5 - Still Poppin' My Collar - Yung Redd
6 - Bring It Back - Scooby
7 - Playin' No Games - Unique
8 - Bang - Scooby, Yung Redd, Unique & Paul Wall
9 - Meet Me On The Block - Scooby, Unique & Poppy
10 - G-Boy Music - Poppy & Unique
11 - Paul Wall PSA
12 - Show Me Sumthin' - Scooby & Lanske Fairchild
13 - All I Know - Trae, Yung Redd & Scooby
14 - Always Ready - Scooby
15 - Nuttin' To Lose - Scooby
16 - Tell Me What You Need - Lanske Fairchild, Scooby & Poppy
17 - G-Boy - Unique
18 - Gridin' Musik - Poppy
19 - Keepin' It Lit - Gritboys feat. Paul Wall (produced by Grid Iron)
20 - Drank In My Cup - Gritboys feat. Paul Wall (produced by Grid Iron)
21 - I'm A Come Down - Gritboys feat. Lil' Keke (produced by Grid Iron)
22 - Now & Later Paint - Gritboys feat. Paul Wall & Killa Kyleon (produced by Grid Iron)
23 - Dripped Out - Hawk (R.I.P.), Pretty Todd, Scooby, Yung Red & Unique
24 - G-Boy Fresh Outro - DJ Smallz & Paul Wall
How To DOWNLOAD