Dub MD & Dominique Larue - End Of Regulation
Submitted by mfizzel on Fri, 11/20/2009 - 5:38pm.
General | Mixtape Torrents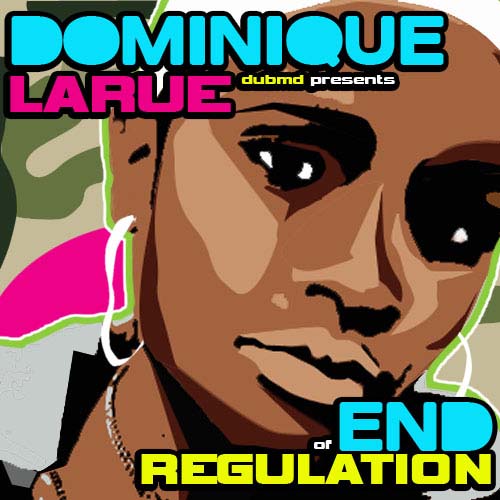 end: The time at which something is concluded.
reg•u•la•tion: A principle, rule, or law designed to control or govern conduct.
End of Regulation is 17 original tracks filled with enough lyricism and classic production to make any hip hop head have a cardiac. Dominique Larue does nothing but exude her passion for music in each song with her raw delivery and cunning storytelling. She is on a mission to let the world know that female emcees still exist and are alive and well. With production from Focus, Rashid Hadee, D/Will, T.Dragonette, Antman Wonder and more, along with features from the likes of Wordsmith, Prefyx, Junclassic, Cyrano Sinatra and Savant.
If you feel like hip hop has been lacking a woman's touch then this tape will bring all hope back in a special way. Dominique showcases her ability to rock any given track with her trademark raw elegance. End of Regulation is meant to show the world how she is putting in overtime to end mediocrity in music, this most definitely raises the bar. Ms. Larue's new album "From Ohio With Love" is available on iTunes/Amazon right now. Also lookout for Dub MD and !llmind as they return with Volume 4 of the "Blaps, Rhymes & Life" compilation series this December.
01.) Epic Intro (Produced By Antman Wonder)
02.) The Best (Produced By Boonie Mayfield)
03.) Fall '96 (Produced By Ghost Rydah)
04.) Kill That Sh*t (Produced By Antman Wonder)
05.) Indian Movements (feat. Junclassic) (Produced By drielb)
06.) Where Are All The Female Emcees (Produced By Tye Hill)
07.) I'm In Love (Produced By Rashid Hadee)
08.) Take It 'Uh Over (feat. Prefyx) (Produced By Antman Wonder)
09.) Off It (Produced By Focus)
10.) Pose (Produced By Antman Wonder)
11.) Nothin To Me (feat. Wordsmith & D/Will) (Produced By Severe)
12.) He Got Me Like (Produced By T.Dragonette)
13.) Dope Sh!t (Produced By drielb)
14.) Longtime (feat. Cyrano Sinatra) (Produced By D/Will)
15.) Sassy (Produced By Rashid Hadee)
16.) You're A Star (Produced By Antman Wonder)
17.) We Keep It Movin' (feat. Savant) (Produced By drielb)
How To DOWNLOAD