Dub MD - Hip Hop Renatus
Submitted by mfizzel on Tue, 11/25/2008 - 8:34am.
General | Mixtape Torrents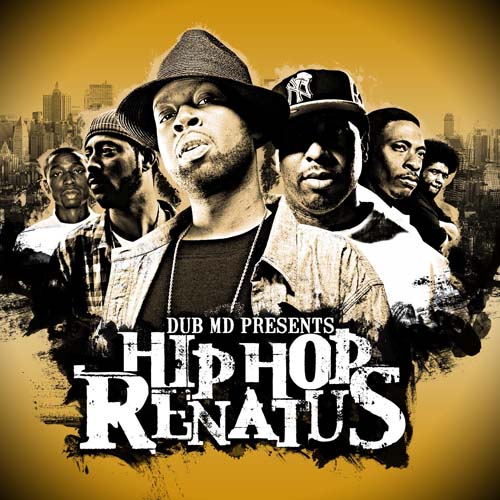 Dub MD presents the brand new exclusive mixtape project entitled Hip Hop
Renatus with some of the most slept on and underrated emcees featuring the
likes of Supastition, Skyzoo, Sha Stimuli, Mr. Live, 6th Sense, Sic Osyrus, Fred
Knuxx, Karneige, Access Immortal, Donny Goines, Diablo Archer, Emilio Rojas,
D.V. Alias Khryst, Wordsmith and many more, doing what they do best over some of
the greatest producers in the Hip Hops New, Rare, Classic & Unreleased
instrumentals including J Dilla, DJ Premier, Pete Rock, ?uestlove, Large
Professor, Oddisee, Illmind, Marley Marl, Madlib and 9th Wonder just to list a
few.
01.) The Genesis (Intro By DJ Unexpected)
02.) 6th Sense - Hip Hop Renatus (Produced By Erick Sermon)
03.) Mr. Live feat. Earl Blaize - The Bitch That You Are (Produced By Oddisee)
04.) Sic Osyrus & Donny Goines - Why Lord? (Middle Fingers Up) (Produced By
Khrysis)
05.) Karniege - The Kush (Produced By Jake One)
06.) Skyzoo - Bang This (Produced By The Alchemist)
07.) Dominique Larue - Role Play (Produced By 9th Wonder)
08.) Emilio Rojas - E To The M-I-L-I-O (Produced By J Dilla)
09.) Access Immortal - Stay Strapped (Produced By DJ Premier)
10.) Melodiq feat. Nikal Fieldz - Bottom Of The 9th (Produced By 4th Disciple)
11.) Diablo Archer feat. Myk Dyaleks (of BrokN.English) - We The New Era
(Produced By Domingo)
12.) Sha Stimuli - Today We Living (Produced By Nottz)
13.) Fred Knuxx - Air æEm Out (Produced By Hi-Tek)
14.) Laelo Hood - Extra, Extra! (Produced By DJ Khalil)
15.) Supastition - Sound Of Reform School (Produced By Black Milk)
16.) Black ELement - Feel The Hunger (Produced By DJ Scratch)
17.) DroppinÆ A Message (Interlude)
18.) Zero Star - On My Backpack Shit (Produced By Large Professor)
19.) Little Vic - Let The Dollar Circulate (Produced By Ayatollah)
20.) Cymarshall Law - This Is The End (Produced By Salaam Remi)
21.) Donnan Linkz - Buzz Kill (Produced By Oh No)
22.) Cy Yung aka Cyrano - OK Corral (Produced By Madlib)
23.) Tislam The Great - Once Again (Produced By Questlove)
24.) Faro - Love Me Or Hate Me (Produced By Scram Jones)
25.) Arsun F!st - IÆm In Here (Produced By Marco Polo)
26.) Sense-I - Sense-IÆs The Name (Produced By Nicolay)
27.) Wordsmith feat. Kontact & Black Knight - Signing Day (Produced By Pete
Rock)
28.) Journalist 103 - TilÆ The Trumpets Blow (Produced By Illmind)
29.) Clap Cognac feat. Jedi Knight - Chosen Ones (Produced By Havoc)
30.) City Scholar - The Rebirth (Produced By Evidence)
31.) Detroit Red - Hip Hop Redefined (Produced By Buckwild)
32.) D.V. Alias Khryst feat. Retsam Da Prince - ItÆs Da Govarmynt (Produced By
Marley Marl)
33.) Nametag - Champagne Bottle Flow (Produced By Ski Beatz)
34.) Panama aka Da Spanish Kid - Born Ready (Produced By RZA)
35.) Hi-Coup feat. Spectacula - My Father Told Me (Produced By M-Phazes)
36.) Preach Jacobs feat. NÆtelligence - Mic Check (Produced By Rockwilder)
37.) The Exodus (Outro By DJ Unexpected)
How To DOWNLOAD