Hevehitta & DJ Unexpected - Deadly Duo (Nas & Jay-Z)
Submitted by mfizzel on Fri, 10/23/2009 - 8:37am.
East Coast | DJ Unexpected | Hevehitta | Mixtape Torrents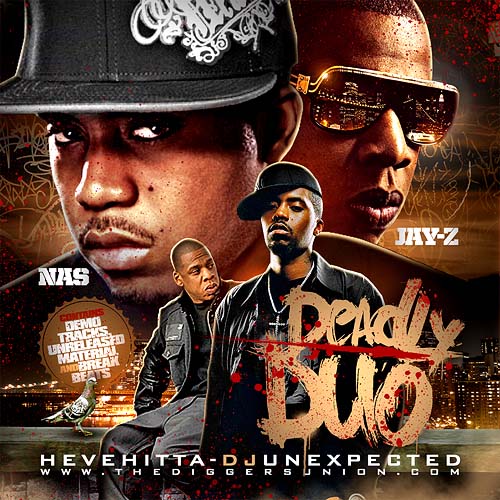 Hevehitta and DJ Unexpected are back once again focusing on the Deadly Duo of
Nas and Jay Z. This mixtape features demo tracks, unreleased songs and break
beats from the two. DJ Unexpected gets his Look What I Found on for the break
beat section, and gives you the break beats / samples that were used for both
Illmatic and Reasonable Doubt.
01. The Twin Towers (Intro - Produced By DJ Unexpected for Diggers Union Local
1200)
02. Jay Z - Broken English (Demo Track)
03. Nas Speaks On The 80 (Interlude)
04. Nas Feat. AZ & Nature - Time (Unreleased - Produced By Dr. Dre)
05. Jay Z Feat. Sauce Money - Nothing But Love (Demo Track)
06. Nas Feat. Kool G Rap & White Boy - #1 With A Bullet (Unreleased)
07. Jay Z Feat. Sauce Money - Ripping It Up (Demo Track)
08. Nas Speaks On Illmatic (Interlude)
09. Nas - Nas Will Prevail (Demo Track)
10. Jay Z Speaks On Being A True MC (Interlude)
11. Jay Z - The Greatest MC (Demo Track)
12. Nas - Yeah Yeah Yeah (Freestyle)
13. Jay Z - Pass The Rock (Demo Track)
14. Nas - Death Anniversary (Unreleased)
15. Jay Z Feat. Nas - Dead Presidents (Live Performance)
16. Nas Feat. Jay Z - Black Republicans
17. Jay Z Feat. Nas & Ludacris - I Do It For Hip Hop
Look What I Found Illmatic Section
18. Break 1
19. Break 2
20. Break 3
21. Break 4
22. Break 5
23. Break 6
24. Break 7
25. Break 8
26. Break 9
27. Break 10
28. Break 11 (Bonus)
Look What I Found Reasonable Doubt Section
29. Break 1
30. Break 2
31. Break 3
32. Break 4
33. Break 5
34. Break 6
35. Break 7
36. Break 8
37. Break 9
38. Break 10
39. Break 11
40. Break 12
41. Break 13
42. Break 14
43. Break 15
44. Break 16
45. Outro
How To DOWNLOAD