Kochece - D-Block Vs. Dipset: I Got Supreme Clientele
Submitted by mfizzel on Fri, 05/26/2006 - 3:03am.
East Coast | Kochece | Mixtape Torrents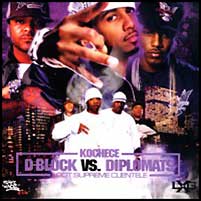 Kochece keeps it cryptic with these mixtape tales from the hood
featuring the two groups with NYC's most gutter flows. Breaking out
new tracks, freestyles, remixes & verses from The Diplomats and
D-Block, this mixtape features all-new music from Jadakiss, Styles,
Cam'ron, Juelz, Jim Jones, Sheek, Hell Rell, J-Hood, Team Arliss, JR.

1 - Intro
2 - Jadakiss feat. Styles P- Shots Fired
3 - Hell Rell feat. Cam'ron- Laughing At You
4 - Styles P & Red Cafe (Green Lantern remix)
5 - Juelz Santana- No Time
6 - D-Block- Touch The Sky Remix
7 - Juelz Santana- Whip It Hard
8 - Sheek Louch- Im On Em
9 - Cam'ron- Do Your Thing
10 - Styles P feat. Fat Joe- Shotgun
11 - 40 Cal- The 40 Cal Show
12 - J-Hood feat. Gravy- Cannon
13 - Cam'ron feat. Hell Rell- Poppin Off
14 - Styles P feat. Ghostface- Can It All Be So Simple
15 - Blackface- Welcome To The Hood
16 - Harley Davidson- Mo Money
17 - Hell Rell feat. Akon
18 - J-Hood- Society
19 - Cam'ron- Suck It Or Not
20 - Styles P - Who Wanna Problem
21 - Jim Jones- My Minute
22 - Styles P feat. J-Hood- Quick 3 Piece
23 - Cam'ron feat. Jr Writer- Grill Em (remix)
24 - Team Arliss- Its Arliss
25 - Cam'ron- Warrior (Dirty Harry Remix)
26 - D-Block- Incognito
27 - Hell Rell- Invasion Freestyle
28 - Sheek Louch- Cock Back
29 - Hell Rell feat. Lil Wayne- Gangsta To The Core
30 - D-Block- Gangsta Shit
31 - Blackface- These N!Ggaz
How To DOWNLOAD