Real Talk TV Vol 9 (DVD)
Submitted by trillondeck on Tue, 02/17/2009 - 8:43am.
General | Mixtape Torrents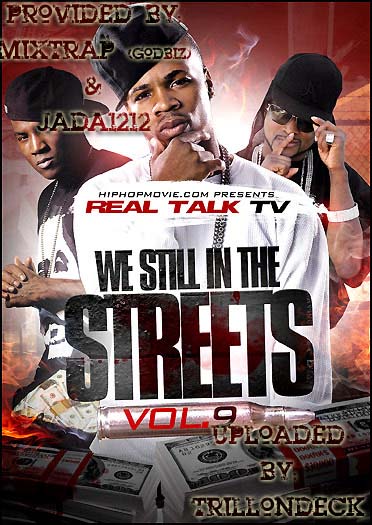 Download VLC Media Player (Free) to watch this DVD
REAL TALK DVD IS BACK MUTHA$#@%Z!! WE STILL IN THE STREETS
Arlis Michael and The Real Talk TV are back in the streets for the first time in almost a year as Real Talk DVD Magazine drops their 9th Volume of "We Still In The Streets," one of the longer running DVD magazines in the game. Real Talk DVD had been mad steady in the game, dropping a few times a year, but 2008 was a little shy for the Real Talk fam. But back harder than ever for 2009, Real Talk DVD spills this latest jumpoff from the HipHopMovie.com crew, including Arlis & Mook Diamonds -- two of NYC's longest running underground DVD magazine spitters.
This special volume of Real Talk TV features appearances from the Recession-proof Snowman as Young Jeezy comes and chops it up with Real Talk TV and blesses them with some exclusive footage you won't see anywhere else. Also from the South and getting love on this DVD, Shawty Lo, Lil Boosie and Webbie, Plies, B.G. and Paul Wall all come through and lace Real Takl with some exclusive shit for their 9th DVD on the block. Not just sticking to the South, of course, the NY-bred Real Talk DVD takes you back up north for exclusive footage from Cassidy, Juelz Santana and Prodigy + some of the hood's realest.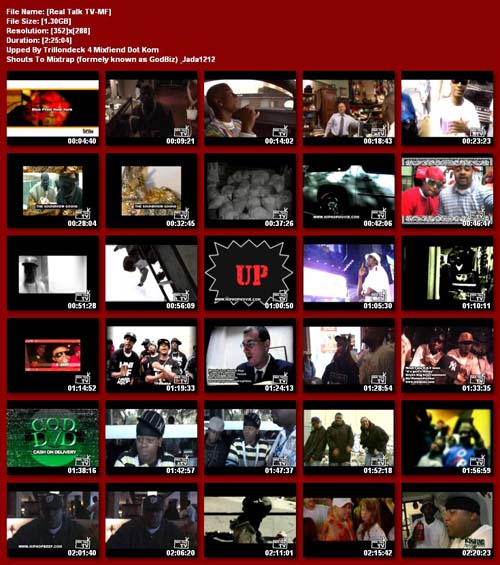 FEATURING INTERVIEWS, LIVE PERFORMANCES & EXCLUSIVE FOOTAGE FROM:
Arlis Michaels
Mook Diamonds
Young Jeezy
Plies
Webbie
Shawty Lo
BG
Hot Rod
Lil Boosie
Cassidy
Prodigy
Paul Wall
Juelz Santana
Bushwick Bill
Glasses Malone
Link Up
Rah Murda (Byrdgang)
St. Laz
LA
M Reck
OTL
Newz
G Baby
and more
How To DOWNLOAD