Hoodz - Jeezy & Boo The D-Boy Connection (DVD)
Submitted by trillondeck on Thu, 12/18/2008 - 8:01am.
Dirty South | Mixtape Torrents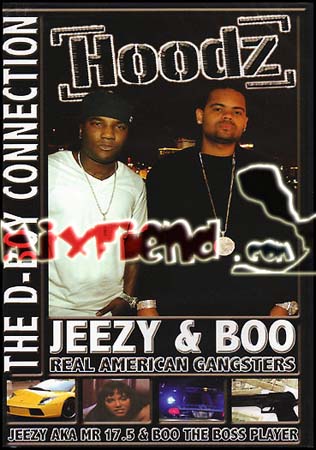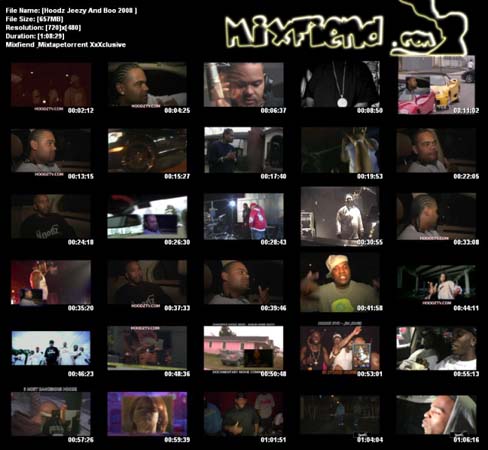 Download VLC Media Player (Free) to watch this DVD
Check out another exclusive edition of the HOODZ DVD MAGAZINE. This DVD takes you inside of Young Jeezy's CTE Camp, watch exclusive action packed footage as Jeezy & Capo "The Boss Player" Boo Rossini. Ball Out of control from the strip club to the block. Get the exclusive co-signed by Jeezy and Boo on the D-Boy connection that brought together the CTE Click from the hood to the stage!
On some real ATL D-Boy shit, this new HOODZ DVD takes you inside the camp of the rap game's coldest hustler: The Snowman Young Jeezy. Taking you from the Trap to around the World, Jeezy has taken over the Southern rap scene in the last few years thanks to his hustler persona and street grind. Jeezy lets you inside the street machine that led to the Snowman and Trap Or Die movements, plus the street movements that have led to Jeezy dropping nothing but platinum albums.
DESCRIPTION FROM PRODUCER: Hoodz DVD presents Jeezy & The D-Boy Connection. This is another Hoodz DVD exclusive and features Young Jeezy and the newest Corporate Thugz Entertainment (CTE) member, "The Boss Player" Boo Rossini. You know the drill with these DVD's and you know no one does it like Hoodz. Jeezy & The D-Boy Connection takes you on a journey through America's out-of-bounds territories from A-Town to the hood of Jacktown and into the underbelly of Cracktown. The D-Boy Connection is action packed, star studded, and entertaining as Hoodz brings you exclusive guest appearances from members of the Hip Hop community's CTE family and Made Men. You also get exclusives from David Banner and Jazze Pha and never before seen trailers from 5 Most Dangerous Hoodz of the American Hoodz Series which features a sneak peek into "8 Million Stores," "Bloodie Apple," "Live & Let Die in L.A.," "Blood Town," and "Durty Capital." As always, Hoodz shot Jeezy & The D-Boy Connection in hi-quality video and filmed in a pre-documentary style, delivering reality with a cinematic style-like arch. With Jeezy and CTE loose on the streets, the hood ain't safe no more.
How To DOWNLOAD