Sinister Shan Presents - The Carter Files Pt 2 (BK Blends Edition)
Submitted by mfizzel on Sun, 05/03/2009 - 6:05pm.
Blends | DJ Sinister Shan | Mixtape Torrents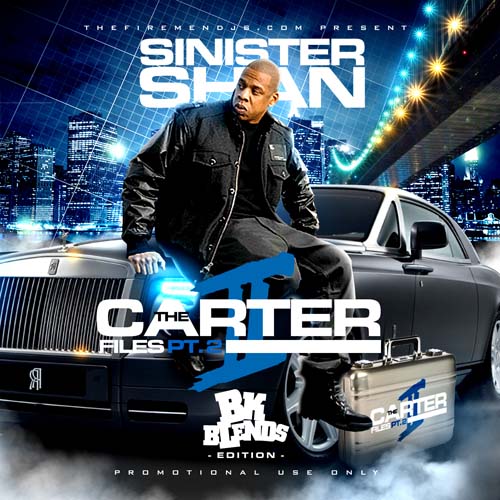 One of the hottest blend tapes of the year courtesy of Sinister Shan & The Firemen DJs!
Below is a sample track, hit the break for the full track list & torrent. Download this now!

31 - Song Cry - Sinister Shan & Jay-Z
1 - Intro/Sinister Shan Interviews Jay-Z
2 - Can I Get A ......
3 - H.O.V.A.
4 - Allure
5 - Takeover
6 - Heart Of The City (Ain't No Love)
7 - Blue Magic
8 - Bonnie & Clyde
9 - Money,Cash,Hoes
10 - The Ruler's Back
11 - 99 Problems
12 - Girls Best Friend
13 - American Dreamin'
14 - Sunshine
15 - Memphis Bleek Speaks
16 - Pray
17 - Ignorant Shit
18 - Who You Wit?
19 - Somebody's Girl
20 - Roc Boys
21 - The Watcher
22 - Do It Again (Throw Your Hands Up)
23 - Money Ain't A Thing
24 - Change Clothes
25 - Deja Vu
26 - Jay-Z Speaks
27 - Upgrade
28 - Jay-Z Speaks In Va 4 Obama
29 - Hola Hovito
30 - Feelin' It
31 - Song Cry
32 - I Know
33 - Girls (Remix)
34 - Never Change
35 - Hello Brooklyn
36 - No Hook
37 - U Don't Know
38 - Party Life
39 - Jay-Z Speaks With Angie Martinez After
Madison Square Garden Performance With
R Kelly. "There's A Gun" - "I Need A New
Lighting Guy"
40 - Jay-Z Speaks With David Letterman About
R Kelly-Funny Ish
How To DOWNLOAD