40 Cal. - Trigger Happy
Submitted by mfizzel on Wed, 06/28/2006 - 10:22am.
East Coast | Mixtape Torrents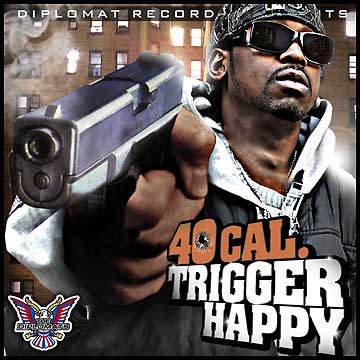 Fans got introduced to Dipset rifleman 40 Cal. on the Harlem
byrdgang's Diplomats, v.5 – the last installment in the classic
mixtape series. Anchoring the mixtape and introducing himself
to the Dipset world with one major freestyle, 40 is now a Dipset fixture.
Since that mixtape, Dude's been causing problems with the Harlem
supergroup. The latest official member of The Diplomats, the gun-crazed
40 Cal. aka. Semi Sosa has earned a heavy reputation after a few
famous Fight Klub battles left him holding the proverbial belt.
With the Dipset marxman recently putting heat in the street with the
best-selling 40 To Life mixtape, the kid 40 Cal. steps back in the booth
to release this official Diplomats Records mixtape. Packed with exclusives,
this mixtape features new tracks and freestyles + cameos from the Dipset family.

1 - Intro
2 - Paid In Full
3 - Hit 'Em Wit Tha 40 feat. Bezel
4 - Click/Puss feat. Su Da Boss
5 - For Tha Love Of Money
6 - This Is Harlem feat. J.R. Writer
7 - Computer Love
8 - Block Huggas feat. A-Mafia, J.R. Writer, Hell Rell
9 - My Year
10 - Dreamer
11 - The Bookings feat. Su Da Boss
12 - Interlude
13 - Machine Gun Rap
14 - Highway music
15 - Swagga Jack
16 - Jungle Hood feat. Su da Boss
17 - 40 Stories pt. 1
18 - 40 Stories pt. 2
19 - We Rollin feat. J.R Writer, Chubbs
20 - Reggae Joint
21 - Last Plate Freestyle
22 - Magic
23 - What Happened To That Boy Freestyle
24 - Radio Freestyle 03' feat. J.R. Writer
How To DOWNLOAD