DJ Hitz - .40 Cal: 40 To Life
Submitted by mfizzel on Tue, 05/16/2006 - 10:00am.
East Coast | DJ Hitz | Mixtape Torrents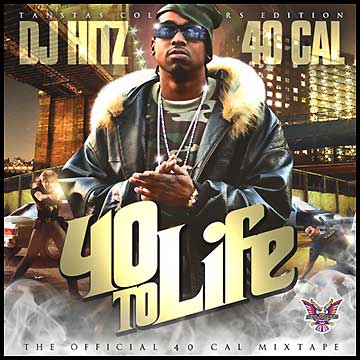 Alongside DJ Hitz, the future of The Diplomats is right here, right now,
live and in the flesh on this official .40 Cal mixtape. Dipset's freestyle
marksman is a Fight Klub champ and holds a mixtape buzz bigger than
most. Getting his mixtape buzz on and popping, the newest member of
the Dips unloads a round of 25 exclusives, freestyles, remixes & more.

1 - .40 Cal Intro
2 - .40 Cal - We Got That Crack
3 - .40 Cal - Blown Mind
4 - .40 Cal feat. S.A.S. - This Is 40
5 - .40 Cal feat. J.R. Writer - Memorable Moments
6 - .40 Cal Interlude
7 - .40 Cal & Akon - Outlaw
8 - .40 Cal - Harlem's Here
9 - .40 Cal - Built For War
10 - .40 Cal - TV Real
11 - .40 Cal - Snitch Nigga
12 - .40 Cal - Already Told You
13 - .40 Cal Interlude
14 - .40 Cal feat. A-Mafia - 40th Boyz
15 - .40 Cal - Butter
16 - .40 Cal Freestyle
17 - .40 Cal Interlude
18 - .40 Cal feat. J.R. Writer - Harlem
19 - .40 Cal feat. A-Mafia - Click Clack
20 - .40 Cal feat. Su Da Boss - Gonna Do Now
21 - .40 Cal - Fight Club Battle #1
22 - .40 Cal feat. Jim Jones & Max B - Frustrated
23 - .40 Cal feat. Su Da Boss - Fight Club Music
24 - .40 Cal - Still
25 - .40 Cal - Intro To This Shit
26 - .40 Cal feat. J.R. Writer - Dipset Season
27 - .40 Cal feat. Jim Jones - In My Blood
28 - .40 Cal - The Best Out
29 - .40 Cal Outro
How To DOWNLOAD