P-Cutta: Street Wars 14 (Come Out and Play)
Submitted by mfizzel on Sun, 01/22/2006 - 9:48am.
Mixtape Directory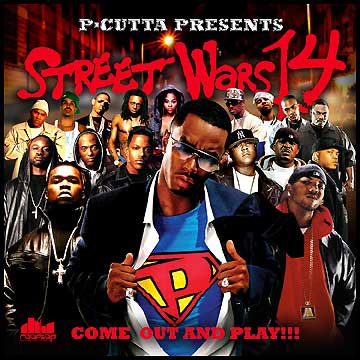 P-Cutta is back with one of the hottest mixtape series in the streets
and a definite fan favorite, the infamous Street Wars series. Breakin'
down new and continued beefs from The Game & G-Unit, B. Sigel vs.
State Prop, The Lox vs. Diddy, Loon vs. Mase, 50 Cent vs. D-Block,
Jin vs. SunNY, Remy Martin vs. Foxy Brown & Skillz vs. everyone.

1 - 50 Cent feat. Ryan Banks, Dirty Red, Lloyd Banks – Smile For Me
2 - Cyrus Street Warriors Intro
3 - Ryan Banks – SW 14 Freestyle
4 - Jadakiss & Styles P Speak vs P. Diddy
5 - G-Unit – 300 Shots (Dissin' Game)
6 - The Game – 120 Bars (Dissin' G-Unit & Lil Eazy E)
7 - Lil Eazy E – E' Coming From Compton (Dissin' Game)
8 - Beanie Sigel feat. Game, Jadakiss – Goodbye (Dissin' State Property, Tony Yayo)
9 - D-Block vs P. Diddy Live On Hot 97
10 - Lloyd Banks feat. 50 Cent – So Simple (Dissin' Game)
11 - 50 Cent Speaks vs D-Block
12 - Jadakiss & Styles P – Freestyle (Dissin' 50 Cent)
13 - Loon – You Know I Get Ugly (Dissin' Mase)
14 - Mase – Check Clear (Dissin' Loon)
15 - The Game – G-Unit Crip (Dissin' Spider Loc)
16 - 50 Cent Speaks vs Lil Kim
17 - Lil Kim feat. Biggie – It's All Good (Dissin' 50 Cent)
18 - Peedi Peedi – Fuck Em (Dissin' Dame Dash)
19 - Loon feat. The Game – Dildo Hopper (remix) (Dissin' Mase, 50 Cent)
20 - Styles P – In My Hood (Dissin' 50 Cent)
21 - Don Brody - Freestyle
22 - Young Chris – Freestyle (Dissin' The Game)
23 - The Game feat. Money Mike – Palm Pilot (Dissin' Young Gunz)
24 - Funk Flex, 50 Cent Speaks vs Benzino
20 - Benzino – Matrix (Dissin' Eminem, Funk Flex, JB)
21 - Remy Ma – Most Anticipated (Dissin' Foxy Brown, Buffie)
22 - SunNY – Freestyle (Dissin' Jin)
23 - Jin – Career Is Over (Dissin' SunNY)
24 - Skillz – Wrap Up 2005 (Dissin' Everybody)
How To DOWNLOAD