P Cutta - Street Wars 13
Submitted by mfizzel on Tue, 11/22/2005 - 8:12pm.
Mixtape Directory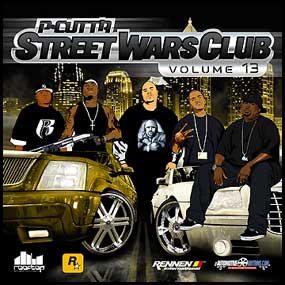 P-Cutta brings you the the lucky 13th edition
of the mixtape bible for hip-hop beefs, battles and drama,
Street Wars. With the first part of this 13th volume (the 2nd will
follow in about a week...), "Mr. Street Wars" leaves no stone
unturned in exposing hip-hop's deepest beefs, disses,
battles, fights, subliminals, catfights and more.
1 - Ryan Banks - Drama Setter
2 - 50 Cent - Piggy Bank (Interlude)
3 - Nas Speaks vs. 50 Cent
4 - Nas - Don't Body Yaself (Dissin' 50 Cent, Mobb Deep)
5 - G-Unit Speaks vs. Nas
6 - Jadakiss feat. Styles P - Problem Child (Dissin' 50 Cent)
7 - Sheek Louch - You Garbage (Dissin' 50 Cent & G-Unit)
8 - Jadakiss - Checkmate (Dissin' 50 Cent)
9 - 50 Cent feat. Tony Yayo - I Run New York (Dissin' Jadakiss)
10 - 50 Cent Speaks vs. Jadakiss
11 - Jim Jones - I Run New York
12 - Jim Jones Speaks vs. Mase
13 - Mase - Murders Back (Dissin' Jim Jones)
14 - Fat Joe - Fuck 50 (Dissin' 50 Cent)
15 - Game - Down (Dissin' Lloyd Banks & 50 Cent)
16 - 50 Cent Being Rushed Outta Hot 97
17 - Game - Lil' Bit parody (Dissin' 50 Cent)
18 - Benzino - Check Mate (Dissin' 50 Cent & G-Unit)
19 - Tony Yayo Speaks vs. D-Block
20 - J-Hood - Get Off His Dick (Dissin' Tony Yayo)
21 - J-Hood - Be A Gentleman (Dissin' Lloyd Banks, 50 Cent)
22 - Sheek Louch - Bang Em (Dissin' 50 Cent)
23 - Tony Yayo - Fuck D-Block
24 - Tony Yayo Speaks vs. D-Block
25 - Mike Nitty - Fake Ass DJs
26 - Sheek Louch feat. J-Hood - Hey 50 (Dissin' 50 Cent)
27 - Lil' Wayne - You Don't Know (Dissin' 50 Cent, Nas, Juvenile)
28 - Skillz vs. Jae Millz (LIVE On Power 92 Richmond, VA Radio)
29 - Uno Dose - Fuck Nas (Dissin' Nas)
30 - Hot 97 - Tsunami Song
31 - Jin - Response To Tsunami Song (Dissin' Hot 97)
32 - Agallah - New Beef, Old Beef
33 - Reeks - Freestyle (Dissin' Krutch)
34 - Krutch - Freestyle (Dissin' Reeks)
35 - Target Squad - Beef
How To DOWNLOAD