DJ Warrior - Cali Untouchable Radio 5/27/08

Submitted by CUDJS on Sun, 06/01/2008 - 3:48pm.
West Coast | DJ Warrior | Mixtape Torrents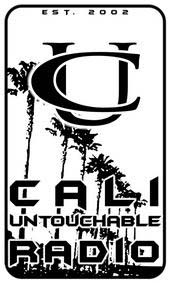 Each week CUDJS will premiere the Podcast download of the latest
edition from DJ Warrior's acclaimed radio show. With the help
from September 7th, J Rez, Stone One & other guest DJ's the Cali
Untouchable Radio show delivers the best in new Hip-Hop music
every week.
DJ Warrior: Cali Untouchable Radio 05/27/08 - Hour 1 | Hour 2
1. DJ WARRIOR INTRO
2. BISHOP LAMONT CITY LIGHTS
3. CROOKED I DREAM BIG FEAT. AKON
4. LIL' EAZY E WHAT WE'RE CLAIMING
5. MISTAH FAB UMM HMM
6. BISHOP LAMONT GET RIGHT BACK
7. ROSCOE UMALI/CROOKED I FREESTYLE
8. TAJE FEAT. GET IT GANG THE GRIM
9. FOCUS CANT YOU SEE
10. ROCCETT ALL I KNOW FEAT. AKON
11.DOGG POUND HALF A MIL FREESTYLE
12. THE GAME BIG DREAM
13. YOUNG ROOK BEAT GO BANG
14. FAT JOE I WONT' TELL(QUIZ REMIX)
15.YOUNG KENO LET'S GET TOGETHER FEAT. ROSCOE UMALI & SHARIS
16. RICK ROSS THE BOSS FEAT. T PAIN
17. MACK 10 BIG BALLER FEAT. G. MALONE
18. SNOOP DOGG LIFE OF THE PARTY FEAT. MISTAH FAB & TOO SHORT
19. BISHOP LAMONT GOATIT FEAT. PHAT KAT & ILLA-J
20. LUDAKRIS STAY TOGETHER
2ND HOUR
1. BISHOP LAMONT BE COOL FEAT. XZIBIT,G.MALONE,MYKEYSTRO
3. BISHOP LAMONT GORILLA PIMPIN' 5008 FEAT. WARREN G
4. DJ QUIK & AMG WORLDWIDE A.M.
5. DJ MUGGS & PLANET ASIA THAT'S WHAT IT IS
6. 40 GLOCC LETS GET IT ON FEAT. 2PAC & BIGGIE SMALLS
7. ROSCOE UMALI I GOT IT FEAT. COLBY O' DONIS
8. TURF TALK HOLLA AT YOU FEAT RICK ROCK
9. MISTAH FAB PARTY ON FEAT. SNOOP DOGG
10. THE PACK AT THE CLUB
11. SKY BALLA MOBBIN' ALL DAY FEAT. E-40 & SAN QUINN
12. BAILEY I GOT BANDS
13. TRAXAMILLION MY SPACESHIP
14. STERLEN ROBERTS AN LEAN
15. YA BOY I ROCK I LEAN
16. DAVID BANNER GET LIKE ME FEAT. YOUNG ROOK(SEPTERMBER 7TH RMX)
17. ROCCETT & 211 MY GLOCK &N MY 2 CLIPS
18. LUPE FIASCO PARIS,TOKYO
19.YA BOY FILPPEN EM
20. KANYE WEST FLASHING LIGHTS
21. 211 PRODUCT OF THE BLOCK
22. LUPE FIASCO SUPER STAR REMIX FEAT. YOUNG JEEZY * T.I.
23. YOUNG ROOK PRICE IS RIGHT
24. SNOOP DOGG LIFE OF THE PARTY FEAT. 2PAC(SEPTEMBER 7TH REMIX)
25. ROSCOE UMALI LIVE IT UP REMIX FEAT. E-40 & BOBBY VALENTINO
How To DOWNLOAD